These days, Valerie Bertinelli is
looking good
, feeling good and
happily married
to husband Tom Vitale.
But that wasn't always the case. On an episode of
The Dr. Oz Show
airing Monday, the
Hot in Cleveland
star frankly discusses her past drug use and addiction to food.
"[Using drugs] wreaked havoc on [my body], because one day I'm eating a healthy meal and the next day I'm just putting a bunch of white powder up my nose," Bertinelli, 52, tells Dr. Mehmet Oz during the appearance.
Bertinelli blames not taking care of herself on the fact that she had low self-worth. "I'm not being good to myself ... I'm not worth being treated well anyway, so I'll just treat myself even worse," she says. "I'm so glad I'm not that person anymore."
Though she found kicking her drug habit to be not that difficult, Bertinelli says her food habit was another story.
"I was never really addicted to drugs. That's why it was so easy for me to stop," she says. "But food is a whole other thing. And I used food as a crutch, and I abused food in a way that I shouldn't have. And it made me afraid of food for a while, too, but now I embrace it."
In fact, Bertinelli shared with Dr. Oz a taste of her lamb chop and Ribollita soup from her new cookbook,
One Dish at a Time
(out now), which offers Italian recipes – like her
husband-approved gazpacho
– as well as tips and tricks on portion control and healthy eating.
"I'm a master at losing weight. I've done it almost my whole life. I've lost weight. I've gained it back. I've lost weight, and I gained it back," Bertinelli, who lost more than 40 lbs. with Jenny Craig, tells Dr. Oz. "This is the very first time in my life that I have kept this much weight off for as long as I have."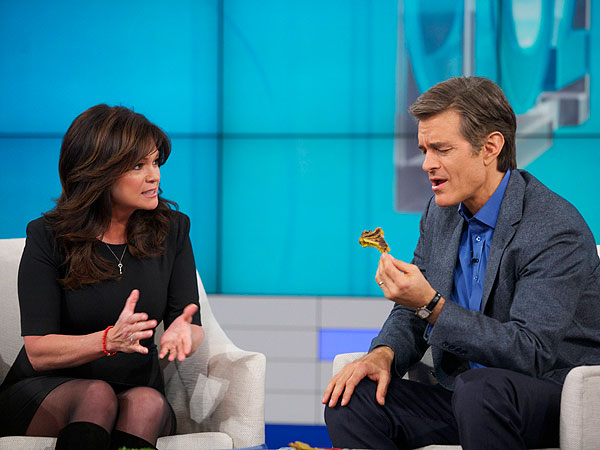 Courtesy of The Dr. Oz Show