Britney Spears
's sons don't see their mom as a superstar. They do, however, think she has super
powers
.
"They try to figure out where I go when I go to film
X Factor
. They're like, 'Mommy's going off to be a superhero.' And then I get back, and they just see me as Mommy," Spears, 30, tells
Lucky magazine
in its December cover story of her boys Preston, 7, and Jayden, 6.
"And then when I'm back working on the show, they say, 'Oh, Mommy's a superhero again!' "
As for the other man in the pop star's life,
her fiancé Jason Trawick
, Spears says he also doesn't mind seeing her without her "cape" on.
Asked what sets Trawick, 40, apart from other people she's dated, Spears replied, "He was sweet … he says he doesn't mind that I sit around in sweats all the time."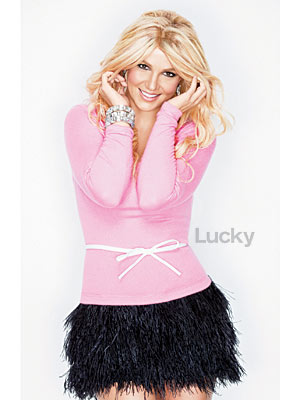 "I work out. I swim. I play with the kids, I cook and I garden," she adds of her down time. "We play Connect Four. We play Candy Land."
And when Super Brit is having a style moment? "I'm old-fashioned," she says of her fashion icons. She admires
Jennifer Lopez
, whom she calls "a classic beauty," and
Sarah Jessica Parker
. "Her looks are really bright and funky and young."
The December issue of
Lucky
magazine hits newsstands Nov. 6.