As a
mom to two little ones
, daughters Olive, 5, and Elula, 2,
Isla Fisher
has her hands full. Lucky for her, staying fit and beautiful – job requirements for
the Bachelorette star
– isn't a challenge.
"Breastfeeding – that's my big slimming secret!" Fisher, 36, says in the winter issue of
Women's Health U.K.
, on stands Wednesday and available digitally. "That and Spanx. Anytime anyone compliments me on my figure, I'm wearing my Spanx undies."
Fisher, who shares parenting duties with
husband Sacha Baron Cohen
, says she does watch what she eats but adds, "I've been blessed in that I never had any body issues during pregnancy. I loved being able to eat whatever I wanted and the whole experience of giving life. And I never worried about losing the weight afterwards, because breastfeeding burns all the calories up so fast."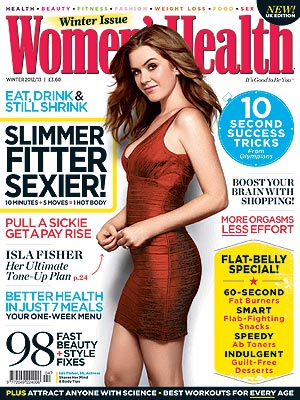 Keeping up with Fisher's flawlessly skin and gorgeous red hair is also apparently not a big chore.
"I'm not actually very good at the maintenance thing," she admits. "I don't buff, exfoliate, pluck, rinse, moisturize, suck, bleach ... whatever all those women do. I don't have vajacials. Have you heard of those? It's like a spa for your vagina!"
Not having to spend much time at the gym or in the spa allows Fisher to spend it with her family. "I'm in the garden," she says of her favorite way to relax. "Seriously! We grow tomatoes and stuff. We keep chickens. Not for the apocalypse, but I am quite convinced that the end is nigh."