Lauren Conrad
is one shoe down, and she's not letting it go quietly.
After
adopting a rescue dog
a few weeks ago, Conrad couldn't help but rave about the puppy named Fitz.
"He is a wonderful, well-mannered, sweet little guy," she
wrote
on her blog last week, but she may have spoken too soon.
Fitz – still a puppy, after all – got to chewing, and gnawed his way right through one of Conrad's shoes.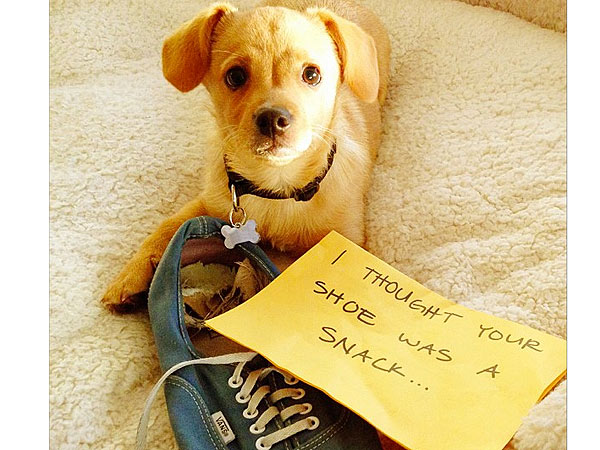 "I thought your shoe was a snack," reads a handwritten note in a photo Conrad
posted on Instagram
with the hashtag #dogshaming.
Dogshaming
, a blog that went viral earlier this year, calls pooches out for their canine indiscretions, and it seems Conrad is a fan of this Internet-based training technique.
Conrad will have more fun to look forward to as Fitz gets bigger. "Since I don't know exactly what Fitz's breed is, it will be a surprise to see how big he grows," she wrote. "I was told he will be 30 pounds max, but we will see about that. When I got Chloe, the pound said she would be 40 pounds max…and now she is pushing 70!"