Preparing to play Fantine
in
Les Misérables
could be perceived as miserable for
Anne Hathaway
.
No stranger to altering her lifestyle to fit a role – she went vegan and got into peak shape for
The Dark Knight Rises
– Hathaway, who turned 30 on Monday, went to extremes to stay true to her latest character.
Going on a strict cleanse before shooting
Les Mis
, the Academy Award-nominated actress lost 10 lbs. Then, living off of two thin squares of dried oatmeal paste per day, she lost another 15 lbs. in two weeks.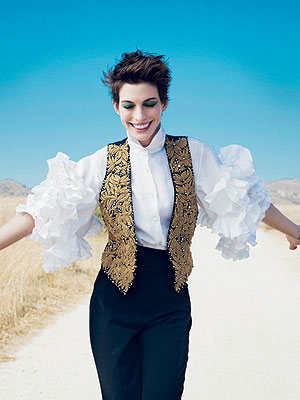 "I had to be obsessive about it," she says in the December issue of
Vogue
. "The idea was to look near death. Looking back on the whole experience – and I don't judge it in any way – it was definitely a little nuts. It was definitely a break with reality, but I think that's who Fatine is anyway."
Hathaway first saw the famed musical at age seven when her mom performed as an understudy.
"I'll never forget it," she says. "I just sat there sobbing. And I don't think it was just because I was watching my mother die, though that was definitely part of it. I was just so moved and felt so connected to her and the music and the whole production. I've been in love with the show ever since."