It looks like
Taylor Swift
and Harry Styles are having a relaxing holiday ... with fans!
Before Christmas, the couple
enjoyed the snowy slopes of Park City, Utah,
but now they're making new friends in the Caribbean.
"
@taylorswift13
thanks for the pic and nice meeting you! #13 #bestvacation,"
Twitter user @emmycfield, identified as Emily Canfield,
wrote in a post Thursday.
"It was crazy she was walking into the restaurant I was walking out of [to] meet her in the parking lot," Canfield added in a
photo posted in Instagram
.
Canfield does not identify where she is, however several other Twitter users that posted photos of Swift and Styles claimed to be in the Caribbean.
"British Virgin Islands have no idea what's coming their way,"
@LilHELDD
, who is identified as Hannah Held, wrote on Dec. 29. A couple of days later, she breathlessly posted, "Just bought Taylor swift and Harry Styles a drink. No joke. #whathappensinBVI…. DEAD FREAKIN SERIOUS I'm gonna try to get a pic with them but I'm scared."
She was, however, successful! Held later
posted a picture
of Styles with two unidentified women and wrote, "Still in a daze." A
picture of Swift
with four women also reads, "She's awesome. Better in person. I LOVE TSWIFT."
Another fan,
@ban_ANNIE
, who is identified as Annie Donatelli, said on Twitter that she's in the Caribbean, and wrote, "I actually made friends with fish and Taylor Swift and Harry Styles!!! So ha!!!"
To accompany
a photo she posted
with both singing stars, Donatelli added. "I've never been so happy."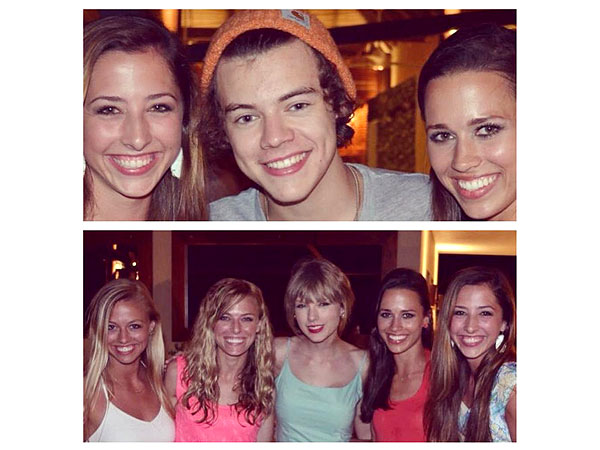 Spot a celebrity? Tweet us your sighting @peoplemag with #CITA and it could appear on PEOPLE.com!

— People magazine (@peoplemag) August 7, 2012