The
Duke
and
Duchess of Cambridge
had an art outing early Friday – for the unveiling of her official portrait.
And they were not alone. Kate's parents and siblings also made the breakfast trip to the National Portrait Gallery – the Duchess's first official outing since she handed out awards at a
sports honors evening
in December.
Her reaction to her portrait? "I thought it was brilliant," Kate, who showed no sign of a baby bump in her burgundy Whistles dress, said at the reception.
She also thanked artist Paul Emsley, a Glasgow-born, South African-raised painter, while William pronounced the canvas – which happens to be located in the same gallery as a rendering of a naked
David Beckham
(it will soon be moved elsewhere) – "absolutely beautiful"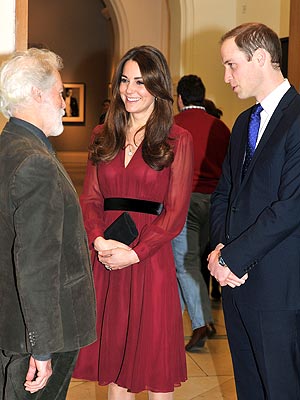 Kate sat for Emsley in two sittings last May and June, both at his studio in Bradford-upon-Avon, southwest England, and at Kensington Palace. Working from photographs he took, he spent 3½ months to create the painting.
He says Kate wanted "to convey her natural self as opposed to her official self. I was always aware of the fact that we would use the hair very much as a kind of a frame for the face, and not too much jewelry apart from the earring, to try to create something of her natural warmth, her natural serenity without too much busyness in the portrait."
He told PEOPLE, "If you are working with someone who has whose face is just a lovely face, it's harder to find something in the portrait that gives it some sort of gravitas. In this case I've tried to do that with the smile and the dimples and the shadows around the face."
Director of the National Portrait Gallery Sandy Nairne, called the painting "very direct, simple. Modern contemporary portrait." As for the subject, "She was really positive about it," and, as he told PEOPLE, "She seemed very well, terrific."