Bobby Flay's signature Super Bowl Sunday recipe actually comes from his wife.
"She's a Texas girl, through and through, and she loves her beef brisket with coleslaw and pickles," Flay shares. "I do, too, but I don't necessarily have the patience to wait on the brisket. This burger satisfies her craving for a taste of home and my need for speed, all in one."
Don't let the lengthy ingredient list daunt you – the
sauce
and
rub
are both available on
OpenSky
, and the payoff from all your hard kitchen work will be worth it. "This is a perfect burger to serve at a Super Bowl party," Flay declares.
BBQ Burgers
Serves 4
• 1½ lbs. ground chuck
• 2 tbsp. canola oil
• Salt and freshly ground black pepper
• BBQ sauce (see recipe below)
• Coleslaw (see recipe below)
• Sliced dill pickles
• Slider buns
• Cheese (optional)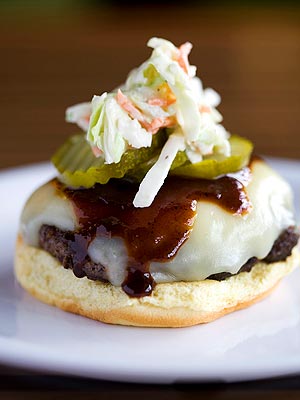 1.
Heat the grill or griddle to high heat. Brush the burgers with oil (if using a grill) or heat the oil on the griddle until almost smoking.
2.
Make your burger rub (recipe below).
3.
Form meat into four 6-oz. burgers, brush with the oil and season each burger with some of the rub and salt and pepper on both sides. Place on the grill and grill until golden brown and slightly charred, 3 to 4 minutes. Brush with some of the BBQ sauce. Turn the burgers over and continue cooking to medium doneness, about 4 minutes longer, and brush with more of the BBQ sauce.
4.
Place the burgers on the bun bottoms and spoon some more of the BBQ sauce on top. Add cheese, if desired. Top with some of the coleslaw and a few pickles. Top with the bun tops.