TMI,
Tim McGraw
!
Ellen DeGeneres
has been known to hand out underwear with her show's name on it to her famous guests. And McGraw, who makes an appearance on Tuesday's episode, is seen wearing them in a photo taken while he was out for a jog.
"Are you wearing them right now?" DeGeneres asked the
sexy country star
, 45, who appeared on the
latest issue of PEOPLE
.
"No," McGraw answered.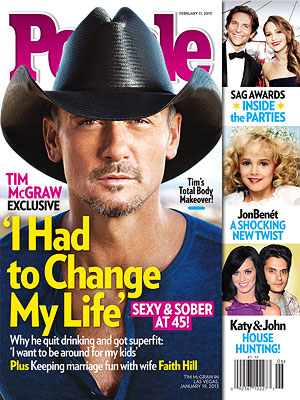 "Why not?" DeGeneres asked.
"These pants were too tight to put underwear on," he explained. "Now I've really embarrassed my daughters ... what was I supposed to say?"
"It's always good to be honest around here," DeGeneres said. "Well, you look good."
McGraw – who has three daughters (Gracie Katherine, 15, Maggie Elizabeth, 14, and Audrey Caroline, 11) with wife
Faith Hill
– also spoke on his decision to get sober.
"When it gets to the point where you think it's affecting you adversely and it's affecting your relationships adversely, it's time to make a change and I thought it was," he said. "I also thought my girls are getting older and I certainly wanted to have some good solid ground to stand on when I started talking to them about their situations."