Lindsey Vonn may be down, but she's not out.
Suffering multiple injuries after a
serious crash on Tuesday's opening day
of the Alpine World Championships in Austria – and facing surgery – the most successful skier in U.S. history vows not only to compete in next year's Sochi Olympics, but to be competing again this November.
"Her goal is to be back by Lake Louise, stronger than she's ever been," Patrick Riml, Alpine program director for the United States ski team, said Wednesday, reports
The New York Times
.
Vonn plans to participate in November's races set for Lake Louise, Alberta, which will be the first speed events of the women's World Cup season. She's been a winner there 14 times before, including victories this season in two downhills and a super-G.
In her own words, through a statement released to Wednesday's
Today show
, Vonn thanked the medical team that looked after her (initially at the scene of the crash, then at the local hospital), as well as her fans for "the outpouring of support." She also said, "I plan on returning to Vail as soon as I can to have the necessary surgeries, [and] I can assure you that I will work as hard as humanly possible to be ready to represent my country next year in Sochi."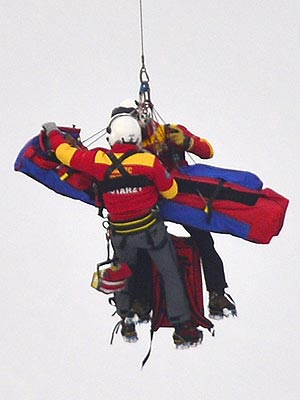 Vonn, 28, tore her anterior cruciate ligament and medial collateral ligament in her right knee, U.S. ski team medical director Kyle Wilkens said in a statement. The broken bone was described as a "lateral tibial plateau fracture" – a break in the shinbone near the knee that affects stability and motion.
While doctors have speculated that Vonn could face six to eight months of recuperation and rehab before she's back on skis, U.S. speed coach Chip White told NBC News, "It was a very aggressive crash, [though] it's an injury that's not unusual in ski racing."
About Vonn, he said, "She was back in the hotel a couple hours after the accident. She was in good spirits, starting to plot out her rehab and next step, so I'm confident that we will see Lindsey Vonn in Sochi next year."