Seeing her mom, Shirley MacLaine, play a
saucy septuagenarian on Downton Abbey
, Sachi Parker couldn't help but smile.
"She was true to form," Parker says of MacLaine, 78, whose zinger-slinging turn as Lady Grantham's American mom
shook up the big house
this season. "It certainly hit home."
Hearing about Parker's relationship with MacLaine makes it easy to understand why.
Raised mostly by her dad, Parker grew up feeling distanced from her movie-star mother. She yearned for MacLaine's attention – so much so that when Parker, 56, also an actress, became a mom herself (to Frank Jr., 16, and Arin, 14, her kids with ex-husband Frank Murray), "I overcompensated," she tells PEOPLE. "But being a great mom is healing for me."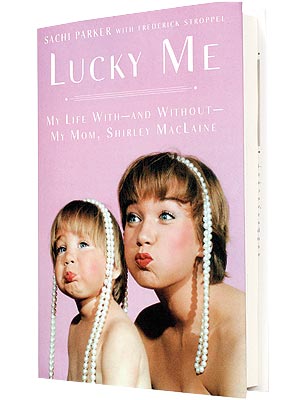 In her memoir
Lucky Me
, excerpted below, she shares her painful story (a story her mother, in a statement to PEOPLE, calls "virtually all fiction. I'm sorry to see such a dishonest, opportunistic effort from my daughter").
For all their ups and downs, she and her mom "love each other dearly," Parker says. "I've accepted who she is."
At age 2, Sachi was sent to live in Japan with her dad, producer Steve Parker. In the summers she visited MacLaine. "My visits in L.A. started at the airport, with Mom rushing up and giving me an all-encompassing hug. Once we got into the car she'd say, 'Let's have fun!'
"Sometimes we'd head down to the Piggly Wiggly and eat cookies from the bakery. They weren't supposed to be free, but Mom had no qualms about grabbing one. No one stopped her; she was a celebrity, after all."