Who knew that D.C.'s tough (and chic!) fixer lived in a space fit not for the capital, but for Hollywood royalty?
Scandal
's production designer, Corey Kaplan, gives PEOPLE a behind-the-scenes look at how they created Kerry Washington's character Olivia Pope's fabulous apartment.  
The space is based off of apartments in the El Royale in Los Angeles, designed by William Douglas Lee of the Chateau Marmont in 1927. The illustrious building was once home to Clark Gable and Loretta Young.
"We took the basic elements of the El Royale apartments to stage," Kaplan says. "We loved the moldings and the embellishments, but we made it a little bit larger scale with larger arches."
"Smooth and feminine" was the name of the game for Kaplan, who was committed to not "overdressing" Olivia's pad. The art that Olivia chooses is "very soft," according to Kaplan, who chose artist Nancy Crawford's "Orange Trees" for the large painting in the living room.
"The paintings bring color back into her life and they don't define anything other than a feeling. A feeling that's different from the black and white of her newspaper and her books. It allows her to feel peaceful in the space."  
Other than her art, Olivia focuses on "very simple colors," like neutrals and white, like her wardrobe. "White is a versatile color," says Kaplan. "It doesn't need to look sterile. The varying tones of linens and silvery accessories help produce the ethereal effect."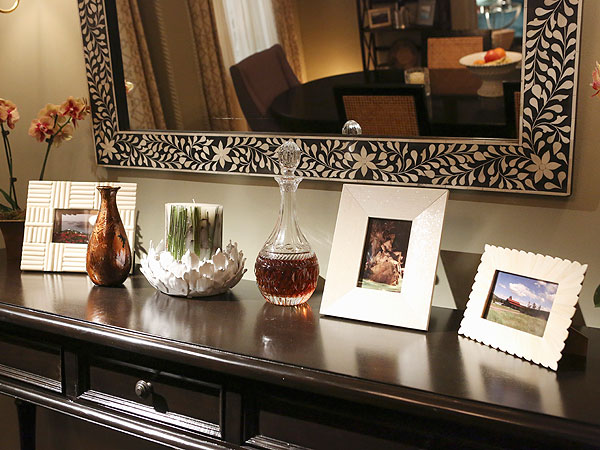 But the most important element of the space for Kaplan was that Olivia was comfortable. "The blue throw on the back of her couch is always there to go over her shoulders at the end of the day," she says. "After a really hard day, she wants nothing more than soft fabric over her shoulders, some popcorn, and big goldfish bowl-sized glass of wine."
 And along with a few over-sized pillows made to match the florals in the curtains, the space became Olivia's "boudoir." Says Kaplan, "It's her place where she can withdraw and unleash her emotions."