NBA center Jason Collins set an historical precedent Monday, coming out as gay in
Sports Illustrated
.
"I'm a 34-year-old NBA center. I'm black. And I'm gay," Collins, states in the
cover story
of the latest
SI
(which, like PEOPLE, is published by Time Inc.). "I didn't set out to be the first openly gay athlete playing in a major American team sport. But since I am, I'm happy to start the conversation."
Insisting it was not his desire to be "the kid in the classroom raising his hand and saying, 'I'm different,' " Collins, who's a free agent and has played for six pro teams and appeared in two NBA Finals, goes on to say: "If I had my way, someone else would have already done this. Nobody has, which is why I'm raising my hand."
The
thought of coming out
started crossing Collins's mind two years ago, he says, during the NBA player lockout. Lacking the routine of preparing for the next season afforded him the time that "forced me to confront who I really am and what I really want."
Though he has a gay uncle in a stable relationship with another man, the first family member Collins came out to was his Aunt Teri, a Superior Court judge in San Francisco. Her reaction – "I've known you were gay for years," she said – made him comfortable in his own skin.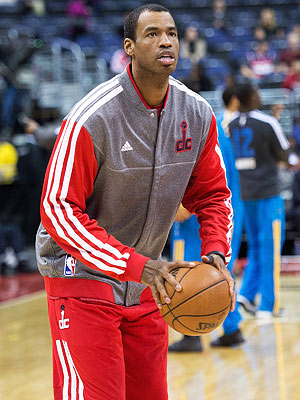 "Some of us know and accept our sexuality right away and some need more time to cook. I should know – I baked for 33 years," he says, also admitting that as a younger man he tried to fool himself by dating women, and even became engaged.
But he also confesses to feeling somewhat jealous of others by his having to stay in the closet, and admits, "By its nature, my double life has kept me from getting close to any of my teammates."
Among other factors guiding his decision to come out, he says, "The recent Boston Marathon bombing reinforced the notion that I shouldn't wait for the circumstances of my coming out to be perfect. Things can change in an instant, so why not live truthfully?"
Collins also stresses that he is acutely aware of the difficulties he may face.
"Openness may not completely disarm prejudice, but it's a good place to start," he says. "It all comes down to education. I'll sit down with any player who's uneasy about my coming out. Being gay is not a choice. This is the tough road and at times the lonely road."
But, for Collins, it seems, it was the only road.