On Monday night, we
finally met their mother
.
For eight seasons on the hit CBS sitcom, Ted Mosby (played by Josh Radnor) has been telling his children, in one long flashback, the story of
How I Met Your Mother
. At the end of Monday's penultimate-season finale, the title character was revealed.
To find out which actress stepped into the long-awaited role, keep reading.
Spoilers ahead!
The plum gig went to Cristin Milioti, a 27-year-old actress who hails from Cherry Hill, N.J. She appeared at the very end of the episode, holding a yellow umbrella and buying a train ticket to Barney and Robin's wedding, where she will meet her future husband this fall in the show's ninth and final season.
Milioti may be best known in theater circles, although she has had notable roles on TV and in the movies. Below, check out five things to know about television's most sudden star.
1. She earned a Tony nomination for her starring role in Once.
A self-described
"band nerd"
in high school, Milioti got into musical theater, eventually landing the lead role of Girl in the Broadway version of the 2006 film
Once
. She
learned the piano in 10 days
before auditioning, spoke and sang the role entirely in a Czech accent, and got a Tony nomination for her work. She also decided not to see the film until after she finished her run in the role earlier this spring.
2. She once channeled Paris Hilton on 30 Rock.
This isn't her first fun TV role. She played a ditzy blonde on
30 Rock
in 2011, and drew inspiration from a certain heiress. "When I tried out, I kind of instantly got the joke," she told the
Huffington Post
. "I watched all these interviews with [Paris Hilton], and I just thought, that voice
has
to be fake."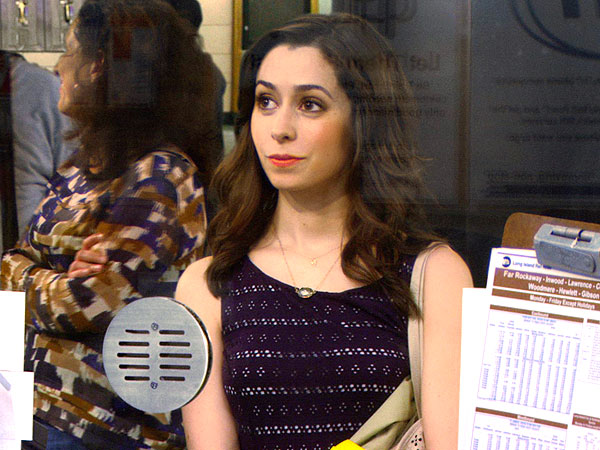 3. She's married to Leonardo DiCaprio.
In the movies, that is. Milioti plays DiCaprio's first wife – a hairdresser in Queens in the '80s – in the upcoming film
The Wolf of Wall Street
. "It was insane, because I tested with Leonardo and Martin Scorsese the day before the [2012] Tony Awards, and I made the choice not to tell anyone," she told
Theater Mania
. "Then I found out I got the part the day after the Tonys. It was a great week."
4. She has one big thing in common with Carrie Bradshaw.
Like the
Sex and the City
character, Milioti likes guys who can build furniture. As of last year, she was living with Brooklyn furniture maker Jesse Hooker, who specializes in reclaiming materials from around New York City. Their Bushwick apartment was even featured in architectural magazines. "Everyone says 'It's so Carrie and Aidan " she told the
Daily News
. "He makes beautiful stuff. Tables, seating, and all from reclaimed material. We are not for want of furniture."
5. For someone who talks for a living, she mangles phrases constantly.
"The other day I was chatting with my boyfriend," she told
Theater Mania
, "and I said to him, 'He really sold him under the bus.' And he said, 'I think you meant "threw him under the bus," or "sold him up the river." ' … It's a constant problem. On my first date, my boyfriend asked me if I wanted to eat a la carte, and I said that I would prefer to stay inside! It's really embarrassing."