No barbecue or picnic is complete without potato salad, and Melissa D'Arabian's is a winner – because she's a winner, of
Food Network Star
season 5!
Looking for a lighter option? Try turkey bacon instead of pork, or skip the mayo and let the vinegar and cayenne do the talking, er, flavoring.
Grilled Potato Salad
Serves 4
• 7 small to medium red potatoes, scrubbed and quartered
• 1 sweet potato, peeled and cut into 1½-in. cubes
• ¼ cup mayonnaise
• 1 Tbsp. Dijon mustard
• 2 tsp. onion powder
• 2 tsp. garlic powder
• ¼ tsp. cayenne powder
• Kosher salt and freshly ground black pepper
• Bacon-Green Onion Vinaigrette, recipe follows
1.
Preheat the grill.
2.
Place the red potatoes in a large saucepan and fill with cold water, covering the potatoes by 2 inches. Bring the water to a boil over high heat. Once the water begins to boil, about 8 minutes, add the sweet potatoes. Return to boil and cook for 8 more minutes. Drain the potatoes and set aside to cool.
3.
Meanwhile, in a medium bowl, whisk together the mayonnaise, mustard, onion and garlic powders, cayenne and some salt and pepper. When the potatoes are cool to the touch, toss them in the mayonnaise mixture and stir gently to coat.
4.
Using tongs, place the potato pieces on the hot grill, and cook on all sides long enough to make grill marks, 1 to 2 minutes per side. Handle gently so they don't fall apart.
5.
In a large bowl, place the bacon-green onion vinaigrette. As the potatoes are cooked through, remove them from the grill and place the hot potatoes in the bowl with the dressing. Gently toss the potatoes in the dressing to coat completely and serve, warm or cold.
Bacon-Green Onion Vinaigrette
• 1 slice bacon, cut into lardons
• ¼ cup olive oil
• 2 Tbsp. red wine vinegar
• 1 tsp. Dijon mustard
• 2 Tbsp. chopped fresh parsley
• 2 green onions, chopped
• Kosher salt and freshly ground black pepper
1.
In a small sauté pan, cook the bacon until crisp. Then set aside to cool. Once cooled, pour the bacon and fat into a small bowl along with the olive oil.
2.
In another small bowl, whisk together the vinegar and mustard. Slowly drizzle in the olive oil-bacon mixture, whisking to emulsify. Add the parsley, green onions and salt and pepper to taste, and whisk to blend.
Courtesy of Food Network Star season 5 winner, Melissa d'Arabian. For more grilling recipes, go to foodnetwork.com/grilling.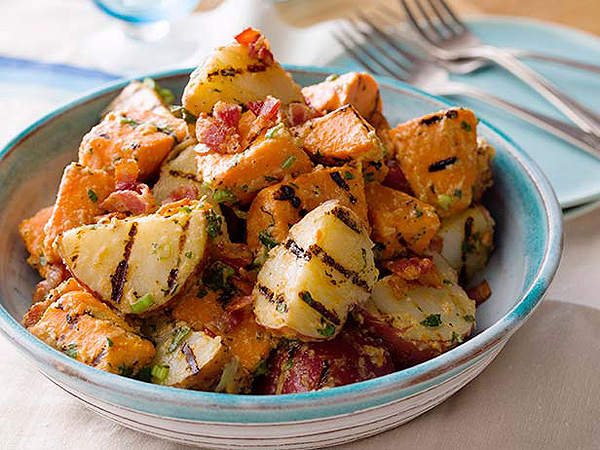 Matt Armendariz / Courtesy of FoodNetwork.com