A little too friendly?
That was the scene for
Jennifer Aniston
when she sought some impromptu hosting advice from her former
Friends
costar
Matthew Perry
in a funny new skit to promote her Wednesday gig as co-host of
The Ellen DeGeneres Show
.
In the clip (watch it below), Aniston knocks Perry's door to get some tips from her former castmate, who also has co-hosted the show.
"We haven't actually seen each other in like a really long time, 8 years. ... You really should have called," said a nervous Perry, who looked on sheepishly as their mutual pal and former costar
Courteney Cox
emerges from his house after an obvious sleepover.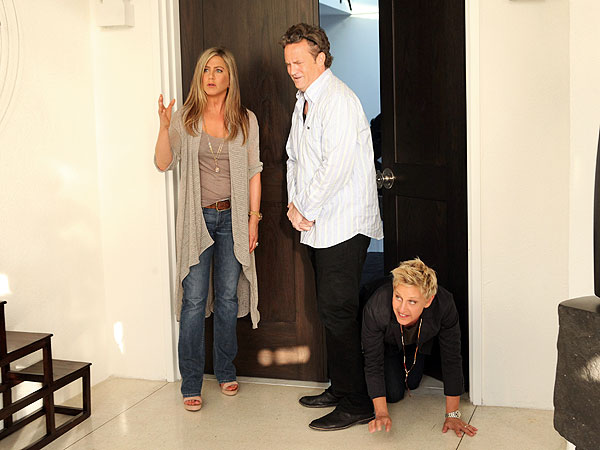 Michael Rozman / Warner Bros.
"You're sleeping with her, too?" Cox admonished Perry in feigned (and comic) jealousy of Aniston as she took her walk of shame.
But it wasn't just a cozy twosome at Perry's place. Quickly Ellen's wife
Portia de Rossi
slipped out the door, followed by
DeGeneres
herself, who quietly crawled away, pretending not to be seen in a reunion gone amok.
Later on the show, the
engaged Aniston
showed plenty of game as co-host when she got de Rossi and DeGeneres to confess what really bugs them in their
nine years together
.
"I make dinner and I love preparing food and making it the perfect temperature. I garnish. I try to make it romantic," de Rossi said. "But every single night, just as I serve her dinner, she gets up and feeds the cats."
DeGeneres responded to their dining dilemma: "No, no. What happens is, the cats know when I come home. Somehow I come in and they all want to be fed. What can I do? I have to feed them."