With a grin on her face and a Superman cape flapping behind her, 2-year-old Ireland Nugent looked triumphant Monday as she took her first determined steps on new prosthetic legs just two months after her father accidentally backed over her lower legs and feet with his riding lawn mower.
"I'm just speechless and so proud," her teary-eyed father, Jerry Nugent, told the
Tampa Bay Times"
. "She took it over the top. ... She's not ever going to hold back. That's my superhero. That's my angel."
The milestone seemed barely imaginable shortly after the freak accident almost took the Florida toddler's life nine weeks ago. Since then she has had seven surgeries on her legs and feet, which needed to be amputated, and she faces more possible surgeries as she continues to grow, her mom, Nicole Nugent, tells the
Times
.
For now, doctors expect she will need new prosthetics every three months as she gets bigger, even though doctors inserted cartilage into her leg stumps to slow bone growth.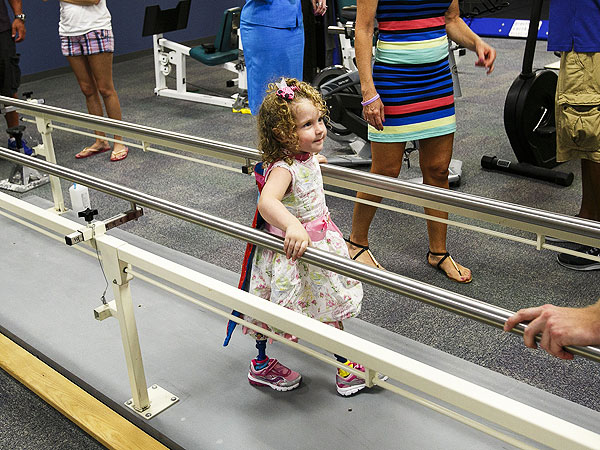 Will Vragovic / Tampa Bay Times / ZUMA
But on Monday, her family and supporters were tearfully focused on her victory as she eagerly tested out a pair of new legs, cutely adorned with Dora the Explorer stickers and pink Velcro sneakers.
"I really thought she would be nervous and not wanting to do it, but she really was not afraid," Nicole told reporters gathered to watch her walk on the parallel bars Monday on a pair of test legs before her more permanent ones are crafted.
Like most 2-year-old girls, Ireland wasn't totally focused on the magnitude of her accomplishment. Instead, her mom said she was struggling with a much bigger decision: Does she like Dora or Minnie Mouse better? The little girl apparently has a say in the design of her new gams.
"She first picked princess legs and went with that, but as a normal 2½-year-old she picked Dora, then Minnie, then Dora, then Minnie, so finally I said we'll buy both," Nicole told the
Times
. "Whatever maker her happy – these are her legs."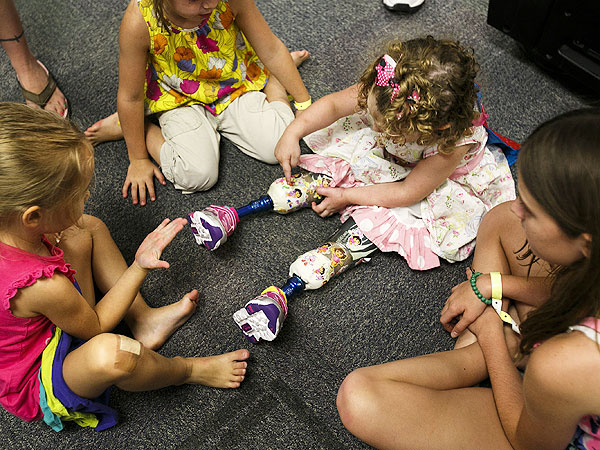 Will Vragovic / Tampa Bay Times / ZUMA
After the successful test walk, her parents are once again envisioning a normal childhood for their little girl, filled with playground romps and dance recitals.
"I'm so happy for her knowing everything she's gone through. She's really is going to be okay," said Nicole. "She really is going to have a great life."