Hugh Jackman
knows a thing or two about romance.
The
Wolverine
– which opens in theaters July 26 – star has been married to Deborra-Lee Furness since 1996.
"My number one rule for romance is surprise," Jackman says in the August issue of
Good Housekeeping
. "If I bring Deb flowers every Tuesday, yeah, it's nice, but is it romantic?"
To shake things up and restore the thrill, the actor bucks routine.
"So much of life is about your routine. I [recently] pretended I was still on the set. I called Deb and said, 'I'll be back late tonight.' " Jackman, 44, appeared hours earlier than his wife expected. "And she got such a shock. I'd made reservations at our favorite lunch place. It was three hours before the kids finished school, and it was awesome because it was unplanned."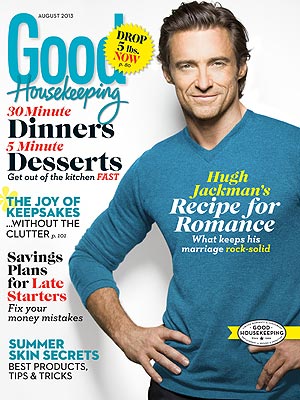 Courtesy Good Housekeeping
PEOPLE's
Sexiest Man Alive of 2008
, Jackman says the couple shares one unbreakable marriage rule: The "best mates" will never be apart for more than two weeks, something that Furness initiated.
"When I met her," Jackman says, "she'd already done about 20 movies," and she understood distance's effect on intimacy. "She said, 'It's not that I think you're going to go off with a costar, or vice versa. But people get used to living apart. You get used to handling a problem yourself.' "
An issue that the two continue to handle together is the ongoing speculation that the actor is gay. "I don't really pay attention," Jackman explains. "If someone's going to spend their time saying, 'You're really not 6' 2'; you're 5' 10,' I'll tell them once, 'I am 6' 2'. Then, whatever you want to believe, it's up to you. We really only get mad when there's an element of truth, right?"