Garrett Clayton is making a splash in Hollywood (pun intended)!
The young actor, who plays Tanner, the sun-bleached lead surfer in the Disney Channel original movie
Teen Beach Movie
(premiering Friday), is best known for roles on Disney's
Shake It Up, Days of Our Lives
and a lead role in the Lifetime TV movie 
Holiday Spin
.
But with
Zac Efron
looks and killer moves on the dance floor, this charming scene-stealer is about to become a household name. And he doesn't mind the comparison to the former Disney star at all: "I've thought about it," Garrett told
Wzra Tv
.
"I think because he's done so well for himself – in the respect that he's been through Disney, done all of those things and then moved on in such a great way – I think I would be lucky to emulate any part of his career."
Here are five more things you didn't know about Clayton:  
1. He's an Animal Lover:
"I have two dogs back home in Michigan. One of them is a Lab named Junior and the other dog is a Husky named Eli," Garrett, who was born in Dearborn, Michigan and grew up in Dearborn Heights, told PEOPLE.  
2. He Had a Terrarium Growing Up – No Joke:
 "I made it with the help of my dad. He and my brother were always really into fish and having fresh, salt-water fish tanks. I guess it was my own way of participating. It was a blast!"  
3. He's Easy on the Eyes:
"It's funny you ask if I get complimented on my eyes! It's usually the first thing people notice about me," said Garrett, whose eyes are green and blue. "I get them from my mom's side," he adds. Something else he shares with mom: love of a good scare. "I really bonded with my mom growing up through our love of horror movies!"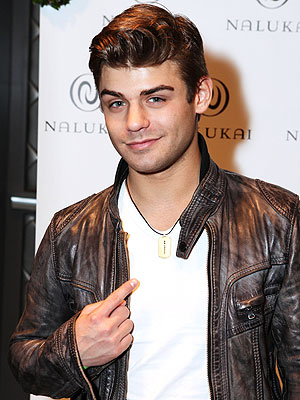 4. He Had His First Kiss at the Tender Age of 8:
"With my friend Jessica. We are still very close 'til this day. Our families have always been very close – even before we were born. It isn't awkward at all!"   
5. He Doesn't Want You to Know How Old He Is:
"I don't talk about how old I am because sometimes it can affect parts that you get in Hollywood," Garrett told
Glamoholic Magazine
's June issue. "I don't believe that it's a necessary element. I feel that I'm a character and I'm an actor. People focusing on my age instead of the role I'm playing can be a hindrance. But, my birthday is March 19."