It was the
crime of nightmares
.
In July 2007, Steven Hayes and Joshua Komiserjevsky broke into the home of Connecticut doctor William Petit and held the family hostage for hours. After bludgeoning Dr. Petit with a baseball bat, they strangled his wife, Jennifer Hawke-Petit and assaulted the couple's two daughters, Michaela, 11, and Hayley, 17. Then, they set the house on fire, killing both girls. Only Dr. Petit survived.
As news of the murders spread, Hayes's daughter, 15-year-old Alicia, had just returned from a high school camp for students who were interested in becoming police officers.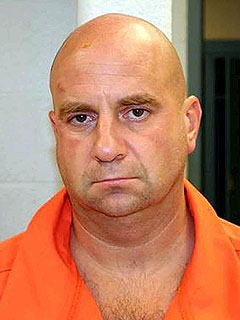 "My mom and I were driving to the bank," she tells PEOPLE. "She turned to me and said, 'Alicia, there's something I need to tell you. Your father did something really bad.' And then she told me everything. I went numb."
Although Alicia's parents had divorced when she was young, she would visit her father weekly.
"He would take me to the park or to the movies," she says. "If I wanted ice cream, he was right there to get it for me. When we would cross the street, he would take my hand to keep me safe. He was always good to me. That's what made this so hard for me to comprehend. He never showed that side to me."
After the crime, Hayes was teased in school by other students. "I didn't believe it at first, and then I got really angry, and then sad," she says quietly. "These girls were close to my age. How could he do something like that? And I started asking questions about myself. If my father could do that, what did that mean for me? I finally decided that there's nothing genetic in what he did. I'm not destined to do the same things he did. I'm not my father, and I will never be him."
Hayes, now 21, tells her story in
The Cheshire Murders
, a
documentary premiering Monday night on HBO
.
Now in the U.S. Air Force, she conducted a Skype interview with PEOPLE from "an undisclosed location in Southwest Asia." Speaking candidly, she talks about the ramifications of her father's actions. (Hayes and Komiserjevsky were both sentenced to death after being
convicted of murder
and other charges in separate trials.)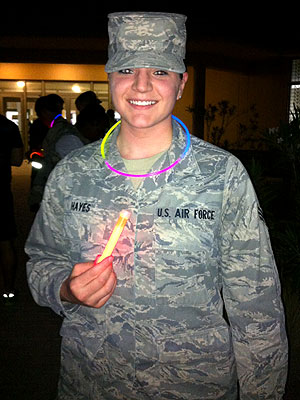 "When it first happened, I blamed myself," she said. "I had told him to call me if he ever felt like he was going to get in trouble again. But I was away when he did it, so I always wondered whether he would have called me if I had been home. But on the same token, I know that I couldn't have stopped it. It was going to happen regardless of what I said."
She pauses and carefully chooses her words. "Obviously, the Petit family suffered more than I can imagine, and I would never comparing their loss with mine. But when someone does something like what [my father] did, his family suffers, too. If I could talk to Dr. Petit, I'd tell him that I'm very sorry for what my father did, but I'd also want him to know that I'm not like that."
In the Air Force, she works as a dialysis technician and is studying to be a nurse. "I want my choices to be about helping people, not hurting them. I see what stealing and burglary leads to, and I don't want that for myself. I hope if anyone can take anything away from my story, it's that you can make your own choices to do the right thing, no matter what other people do. We can all make something of ourselves, and that's what I plan to do."