Attention, guys! If you want to date Nina Dobrev, you'd better be smart, funny and not too vain.
Speaking to September's
Cosmopolitan
(on sale Aug. 13), Dobrev talks about what she looks for in a man and explains that she prefers relationships to casual dating.
"You either have chemistry or you don't, but a lot of what attracts me is a guy's mind and humor and talent," says the
Vampire Diaries
star, 24. "I need to get to know all those things before I fall for someone. I'm not a one-night-stand kind of girl. I'm a relationship girl."
When it comes to style, Dobrev says the right man can look good dressed up or down.
"A man in a suit looking put together and dapper is very attractive, but I also kind of like the I-just-rolled-out-of-bed, a-little-bit-of-scruff, effortless, not-trying-hard-but-still-sexy guy," she says. "If a guy spends more time looking in the mirror than I do, that's a problem!"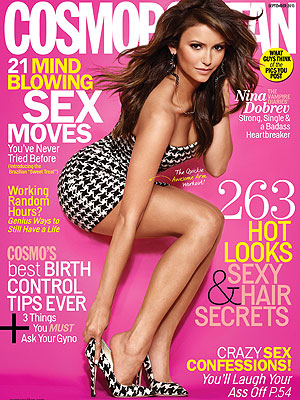 Matthias Vriens-McGrath / Cosmopolitan
Dobrev is spending the summer single after
splitting with her Vampire Diaries costar
Ian Somerhalder in May.
She's now looking for someone who is independent – and will let her be the same.
"People aren't defined by their relationships," Dobrev tells
Cosmo
. "The whole point is being true to yourself and not losing yourself in relationships, whether romances or friendships."
One more tip for potential suitors: courtesy counts! "I'm progressive in some ways, old-fashioned in others. I like it when guys hold the door open and are sweet and thoughtful," she says. "The guys on our show are really good at that."