Tameka Foster says she doesn't blame her
ex-husband
Usher
for a
pool accident
that sent her oldest son to the hospital on Aug. 5. But she is angry that it happened when he was away and she was not there to protect the boy herself.
Speaking to
Good Morning America
's Dan Abrams on Wednesday, Foster, 42, recounted the dreaded phone call she got from Usher, 34, saying it brought her back to the moment when she lost her son Kile Glover last year in a
jet ski accident
on Georgia's Lake Lanier.
"I said, 'I've had this call before,' " Foster said Wednesday. "I didn't blame him for it. I was just angry that it happened on his watch. Never have my children been injured on my watch."
After 5-year-old Usher Raymond V, who goes by Cinco, was
released from an Atlanta hospital
Tuesday, Usher posted a
photo on Instagram
of his son smiling and playing games. A blue bandage is visible on his arm, which was caught in a pool drain, holding him under water before he was rescued by employees working inside the singer's Atlanta home.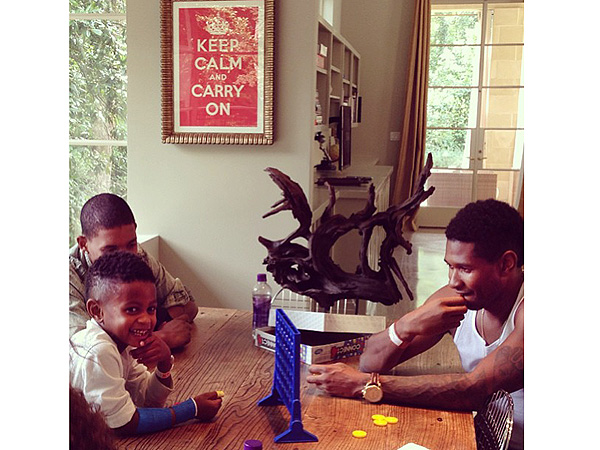 In the wake of the accident, Foster
sought custody
of the couple's two children, Cinco and Naviyd, 4.
"When the incident happened, my attorney filed an emergency motion so that my son, when he was released from the hospital, wasn't going back to the house where this happened," Foster said Wednesday, noting her famous former husband is frequently away from home and her sons are in custody of nannies and family.
Foster believes she should be the one to be with with her children when Usher is gone. "I'd like to have my first right of refusal, which means when he is not present, the kids come home with their mom," she said, adding that she has missed precious moments with her child. "I had to find out on Instagram that he's lost his first tooth," she said.
Abrams pointed out that Foster, as a part of the couple's custody arrangement, had taken a psychological examination, which he said revealed she had "a moderately severe mental disorder."
Foster pushed back on that evaluation. "I'm going to be retested," she said. "You would think from hearing that, that she must be cutting them, beating them, on crack."
She added of her battle to play a stronger role in her son's life: "I am an individual. I don't have a publicist. I don't have a manager [or] an agent. I just have regular working class friends, family members. We don't know how to fight the machine."