She's known for fearlessly performing high-wire acts during her concerts, but there's one thing
Pink
is
scared of.
"I'm afraid of spiders," the singer reveals in the October issue of
Women's Health
.
Actually, that's not the only thing that terrifies the 33-year-old.
"I am afraid of sharks," she continues.
"I'm afraid of the world running out of cheesecake, especially Cheesecake Factory. And then I would also have to be afraid of the world running out of key limes, because key lime cheesecake is the best kind of cheesecake there is."
The
mom of one
is preparing to bring her Truth About Love world tour back to the U.S. next month, and the show features Pink performing
death-defying acrobatic feats
high above the audience, without a safety net, all while singing her hits.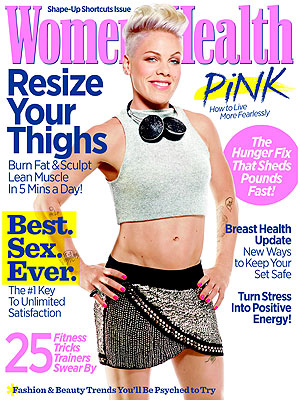 Some would say it was enough of an adrenaline rush to do that night after night, but when she's not flying over her sell-out crowds, or working out five times a week, she's tackling other daredevil feats.
"One of the most daring things I've ever done is skydive, and that's because [her husband, motocross champ] Carey [Hart] surprised me with it and I had no choice. But then I did it twice; the second time is much more enjoyable," she says. "Another daring thing I did was
marrying Carey Hart
."
Hart is a motocross champ, which means he risks life and limb every time he gets on his bike. But Pink (who
briefly separated
from her husband in 2008) admits, "I'm used to him keeping me up at night."