There are worse things in life than having
Scarlett Johansson
play your love interest in a movie – just ask Joseph Gordon-Levitt.
The
newly engaged actress
, 28, stars alongside Gordon-Levitt, 32, in his self-directed and self-written film,
Don Jon
.
"I didn't know Scarlett, but I spent more than a year with the image of her in my head playing this character," the actor tells
Men's Health
. "She couldn't not do this."
Johansson's sex appeal comes from much more than just looks, says the actor.
"Look, Scarlett is a gorgeous, gorgeous woman, but if you just compare purely physical features, plenty of girls are just as gorgeous," he explains. "But she creates this extra something. It's in her walk, her eye contact. The total package is just off the charts."
But it isn't just Johansson who Gordon-Levitt praises in the interview.
The star also shares love for his brother Dan Gordon-Levitt,
who died
three years ago at age 36.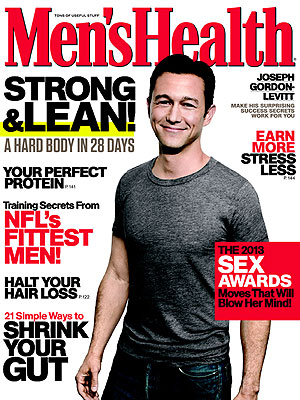 "Here's someone who had a true spark for being alive," Joseph says. "Dan taught people that every day is a gift, a wonder."
Following the tragedy, "Every day is about how do I move forward the way Dan would have wanted me to?" Joseph says.
The two siblings looked alike, and while he was still alive, Dan raved about their close-knit relationship.
"It's wonderful to be mistaken for him," Dan told
PopEater
shortly before his death. "He taught me to question the relationships other people have with their siblings because he would be my favorite person in the world even if I wasn't lucky enough to know him as my brother. He's just awesome in every way that I pay attention to. I ask myself, 'Do I love him because he's my brother or is he really that awesome?' He's really, really awesome."
Joseph is doing his best to get past losing who he previously called his "super hero."
Even though he says there is "no normal" after his brother's death, he knows the experience is a "part of being human."
Says Joseph: "Some things go right, but a lot goes wrong. The only choice we have is to embrace it all – good and bad, rejection and success. That's what an authentic life is, as far as I can tell."