Miley Cyrus
says there's a reason why she's acting the way she is nowadays – it's Hannah Montana's fault.
The 20-year-old who
twerked up a storm
at the VMAs and
got naked
in her new "Wrecking Ball" video, says being cast on the Disney show when she was 13 made her grow up in a hurry.
"I was an adult when I was supposed to be a kid," she says in
the October issue
of
Harper's Bazaar
. "So now I'm an adult and I'm acting like a kid."
Cyrus, who moved out of her
dad Billy Ray
's home when
Hannah Montana
wrapped and into "a big ol' house" with a skating ramp in the backyard, wouldn't talk about her
turbulent relationship
with her fiancé,
Hunger Games
star
Liam Hemsworth
, but says that she still plans on getting married … one day.
"I definitely don't have time to deal with a wedding right now. But I will at some point," she says.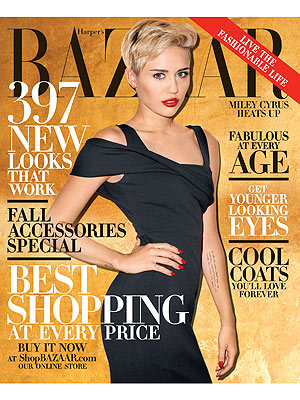 Terry Richardson for Harper's BAZAAR
The "We Can't Stop" singer also declares in the interview that she's "trying to take over the world" and seems to have a lot of advice for other young stars, including
Justin Bieber
.
"I'm not saying you need to take a break because you're crazy," she says. "I'm saying you need to take a break so you can be crazy."
As for
Lindsay Lohan
's decision to cut toxic people out of her life, Cyrus says, "I'm like, 'Honey, you're going to have to move out of this universe because everywhere you go there are toxic people.' "