That tongue just keeps on creating controversy for
Miley Cyrus
, whose latest revelations will surely set everyone else's wagging.
"I think weed is the best drug on earth," Cyrus, 20, tells
Rolling Stone
. "One time I smoked a joint with peyote in it, and I saw a wolf howling at the moon. Hollywood is a coke town, but weed is so much better. And molly, too. Those are happy drugs – social drugs."
The magazine cover gal,
whose engagement
to
Liam Hemsworth
ended earlier this month, doesn't stop there.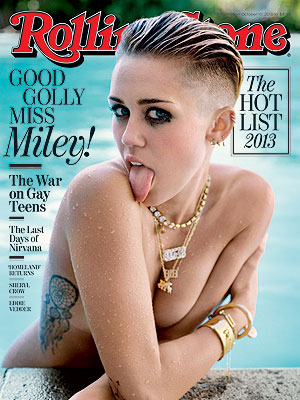 "I really don't like coke," she adds. "It's so gross and dark. It's like what are you, from the '90s? Ew."
Still, she insists, "I know what I'm doing."
The pop princess, who
recently tattooed
Rolling Stone
's name on the soles of her feet, also sounds off on her infamous tongue, saying, "I just stick my tongue out because I hate smiling in pictures. It's so awkward. It looks so cheesy."
And what about that controversial "Wrecking Ball" video, in which she swings naked and makes out with a sledgehammer? Cyrus compares it to Sinead O'Connor's iconic video for "Nothing Compares 2 U."
"I think it will be one of those iconic videos, too," she tells the magazine. "Hopefully, an artist 30 years from now will be like, 'Yo, you remember that Miley Cyrus video? We gotta do something like that.' "