As a dancer,
Usher
could already float like a butterfly. And now, he can also sting like a bee.
Muhammad Ali's famous words certainly ring true for the R&B star, who underwent rigorous boxing training to prepare for the upcoming film
Hands of Stone
, in which he plays another legendary boxer: Sugar Ray Leonard.
"What he did as a boxer is no different from what I do as a dancer," the 34-year-old Usher says of Leonard, now 57, in the November issue of
Men's Health
, on newsstands Oct. 15.
Usher went to great lengths to get into character – and even met with Leonard himself.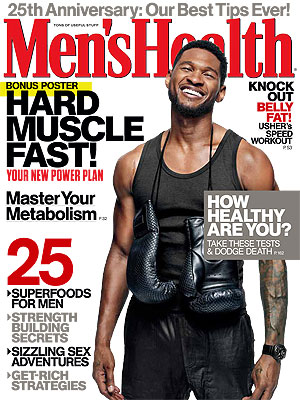 Peter Hapak / Men's Health
"My commitment to this character demands that I not only physically get ready, but also become him," Usher says. "The hair, the personality, the manner he conducts himself in, all that. He's an incredible man."
Usher also talks about the early days of his career, recounting how, at the age of 14, he moved to New York City to work with
Sean "Diddy" Combs
. The two spent long hours in the recording studio, followed by long hours dancing in nightclubs.
"My childhood wasn't like the average kid's," he says. "That's not really great for a young boy. But I didn't know."