Who read
Dr. Seuss's Green Eggs and Ham
on the floor of the Senate? The same man who has led the charge to stop Obamacare by tying its defunding to the passage of a federal budget, which has led to the current stand-off in Washington.
Here's five things you haven't read about Sen. Ted Cruz, a Tea Party Republican from Texas, who talked to PEOPLE this week:
• He's a family man. With federally funded attractions closed, Cruz spent the weekend apple-picking and touring Mount Vernon – which is privately-run and operated and therefore not subject to the shutdown – with his wife, Heidi, and daughters, Caroline, 5, and Catherine, 2. "We picked a whole bunch of apples and had a lot of fun," Cruz says.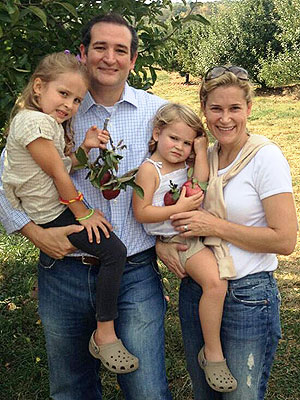 • He's a self-described "movie buff." After dropping off his wife and daughters at the airport, the senator caught
The Butler
on Sunday. "I thought it was delightful," he says.
• The Senate race he won in Nov. 2012 was the first time he had run. He was previously Texas's solicitor general and argued nine cases before the Supreme Court.
• He routinely wears black ostrich boots, which he calls his "arguing boots." But despite his combative public image, "'It's easy being married to Ted," says his wife, Heidi, a VP at Goldman Sachs. "He is thoughtful, deliberate and even-tempered. He never misses date night."
• He has played both Rolfe (seventh grade) and Max (in high school) in
The Sound of Music
. "Rolfe was really terrible," he says, "Because I cannot carry a tune to save my life."
For much more on Sen. Cruz, including how he describes his role in the current crisis, pick up this week's issue of PEOPLE on newsstands Friday