Kris and Bruce Jenner
may have separated
, but they're anything but estranged.
In fact, they appear quite chummy – and the proof is on Instagram. On Thursday, Kris
posted a photo
of herself hanging out with Bruce and his two sons, Brandon, 32, and Brody, 30, at Kris's home. And the quartet seemed to be having a blast.
"Another amazing night @brodyjenner @sprandoni and Bruceeeeee!!! Too fun I love you guys!!! Best hearts #sorryTMZgotitwrongAGAINLOLFollow," Kris, 57, captioned the pic, alluding to a
TMZ report
that claimed that the 63-year-old Bruce's sons were happy with the split.
In fact, Brody himself poked fun at the rampant speculation that's been swirling around the couple's separation – including unfounded chatter about infidelity.
"@krisjenner and I are dating now and @sprandoni and Bruiser seem pretty chill about it hahah," Brody
wrote on Instagram
, where he posted his own pic of the get-together.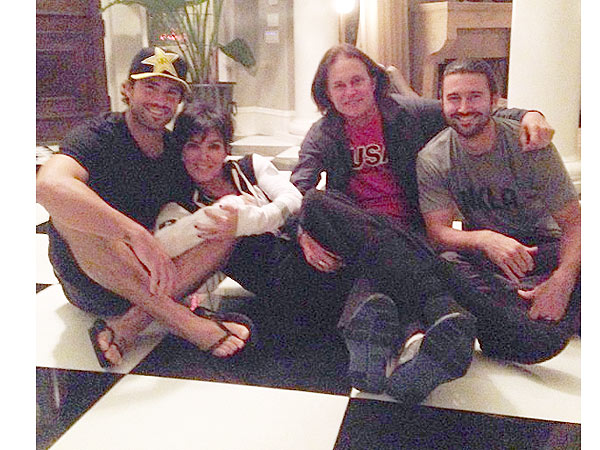 After weathering constant talk of a breakup, Kris and Bruce announced Tuesday that they were separating after 22 years of marriage, but repeatedly stressed that the decision was a mutual and amicable one.
"I don't think it was the pace of life," Kris
exclusively told PEOPLE
after the news broke. "We've always gone 150 miles per hour, and Bruce has more energy than anybody."
She added, "I just think it has evolved. I really can't put my finger on it. We're just happier now."