Eminem is back in the game – and he's corralled some big-name reinforcements to help him out.
The rapper has
revealed the tracklist
to his upcoming album,
Marshall Mathers LP 2
, which hits stores on Nov. 5 and features a roster of A-list collaborators that includes
Rihanna
, Kendrick Lamar, Nate Ruess and Skylar Grey.
Rihanna pops up on a track called "Monster" – the two had previously worked together on his 2010 hit "Love the Way You Lie," which happens to have been written by Grey.
Grey, meanwhile, shows up on a song matter-of-factly titled "A––e" (yep, it rhymes with "pole").
Lamar contributes to the track "Lovegame," while Ruess drops in on "Headlights."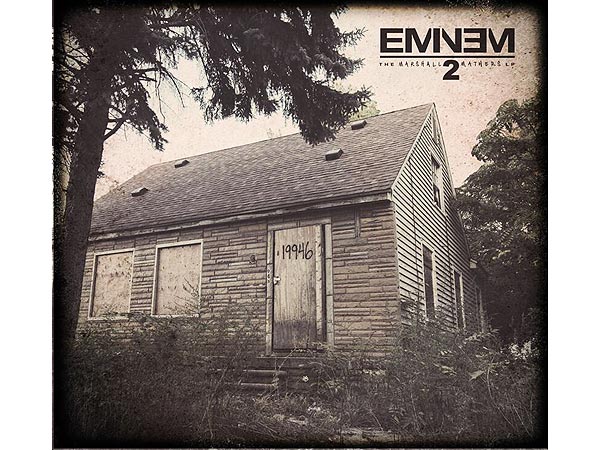 Courtesy of Marshall Mathers
The Slim Shady rapper also unveiled the album's back cover art, which plasters the tracklist onto a "Condemned" notice. The sight gag expands on the album's derelict visual theme:
Its cover
, which Eminem debuted in September, features an abandoned house that's reported to have been his childhood home.
Here's the full
Marshall Mathers LP 2
tracklist:
1. "Bad Guy"
2. "Parking Lot" (Skit)
3. "Rhyme or Reason"
4. "So Much Better"
5. "Survival"
6. "Legacy"
7. "A––e" ft. Skylar Grey
8. "Berzerk"
9. "Rap God"
10. "Brainless"
11. "Stronger Than I Was"
12. "The Monster" ft. Rihanna
13. "So Far…"
14. "Love Game" ft. Kendrick Lamar
15. "Headlights" ft. Nate Ruess
16. "Evil Twin"