Lauren Conrad
may be planning
her nuptials to William Tell
, but she says her wedding is just a minor part of their relationship.
"You have the rest of your life to be married. Enjoy falling in love. When girls get caught up in the timeline, it becomes more about the wedding than the marriage. You should be with someone with whom you could elope this weekend and be happy," the Paper Crown designer tells
Cosmopolitan
.
But Conrad, 27, admits the engagement was a surprise.
"I had no idea it was coming. I thought he would wait until he finished law school," she says.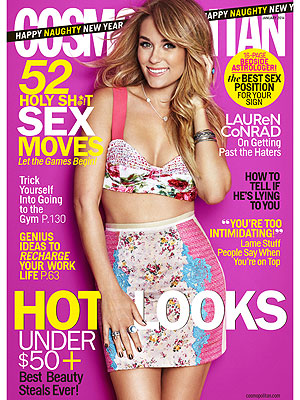 Though the former
Hills
star was surprised by the engagement, she says that when it came time for her fiancée to choose a ring, he nailed it.
"He didn't even ask my friends, which was a bold move. He said, 'I know you, and I know what you like.' And I love it. It's perfect."
And as for how she knows Tell is the one, she adds that it's because he's never far from her mind.
"William hates it when I say this, but he really is a very nice guy, and when you meet a nice guy who also manages to keep your interest, that is the dream ... if you're going to settle down, it should be with someone you can't stop thinking about. Especially if you're in your 20s. If I was were single in my 60s, I would totally settle. I would!"