Christian Slater
is married!
The actor, 44, and his girlfriend of three years, Brittany Lopez, tied the knot during an impromptu ceremony Monday at the courthouse in Coral Gables, Fla., Slater's rep confirms to PEOPLE exclusively.
The pair
celebrated their engagement
this summer with family and friends and had originally planned to have a small ceremony later in the year.
On Monday, they went to the Coral Gables District Court to get their marriage license and spontaneously decided to get married. Afterwards, the newlyweds had a court clerk snap a photo of them.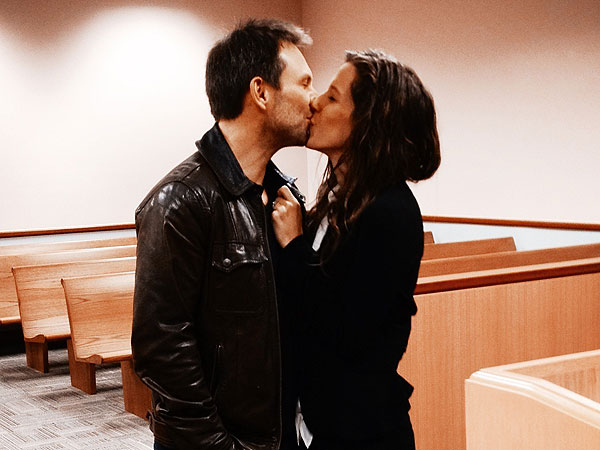 Courtesy Christian Slater
The
Nymphomaniac star
, who
was recently named
one of PEOPLE's Sexiest Men Alive, has been splitting his time between Florida – where the couple live and Lopez works as a business development consultant – and Illinois, where Slater is shooting an upcoming ABC show.
"I live in Miami now and, of course, [
Mind Games
] shoots in Chicago, which is very cold, so now that my blood has appropriately thinned out I'm sure this will run for eight years," he joked. "Yeah, that will be the irony of it all."
•
Reporting by JULIE JORDAN
Slater's Spur of the Moment Decision Was Just Like Kristen Bell's