Katy Perry
isn't ruling out the possibility of having children one day – but it's not happening tomorrow.
"I'm definitely not there yet, and I can't plan that far in advance," she
tells January's Marie Claire
, out Dec. 17, when asked about having kids. "When I decide to have a family, I'll just want to be Mom for a little bit."
The "Unconditionally" singer, 29, doesn't say whether she would consider procreating with
on-again beau
John Mayer
, 36, but it's clear the
Grammy-nominated singer
is smitten.
"He's just a fantastic partner," she says. "I've been a fan of his for such a long time. He's got a brilliant, brilliant mind. It's a rad, mature relationship."
The two might not be collaborating on a baby anytime soon, but the pair did duet on "Who You Love,"
a song they co-wrote
for Mayer's latest album,
Paradise Valley
. The duo released the
alluring cover image
of the new single last week.
Perry hints to the magazine that her reluctance to have kids stems in part from her broken marriage to Russell Brand, who she
split from
in late 2011 after about
a year of marriage
.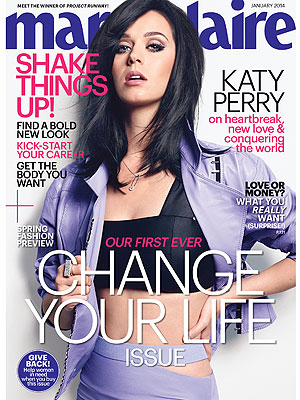 Regan Cameron / Marie Claire
"[Brand] really wanted me to have children, and I knew I wasn't ready," she tells the magazine.
"I think it was a way of control. I think it was part of, 'If I have a kid, then I would have to sacrifice – I'd have to be home more.' I really wanted to, but I knew I wasn't ready for it."
It also appears her divorce was a factor in her
temporary split
from Mayer earlier this year, which allowed her time to heal.
"I took a break from my boyfriend, not one that I wanted," she explains. "It was like a splash of cold water to search inward on what was going on with me. That is what led me to this new awakening, this realizing, 'If I don't do some self-love, I'm not going to be able to keep the love that I want.' "
"I still needed to deal with all of my ex-husband stuff. I hadn't," she adds. "It's almost like if I kept talking about it, it would seem like I actually cared about it. I don't."