Monday marks exactly one year since singer Jenni Rivera was
tragically killed
in a plane crash in Mexico.
She may be gone, but those who knew her best (and loved her dearly) are making sure "La Diva de la Banda" is
not forgotten
. A new Jenni Rivera
album
was released Dec. 3, featuring songs from her last concert in Monterrey, Mexico, and her eldest daughter, Janney "Chiquis" Rivera,
will play
Jenni in a new movie being made about the singer.
On the anniversary of her death, Jenni's celeb friends, co-stars and producers are also sharing their favorite memories of Jenni exclusively with PEOPLE.
"We were working with a very tight budget [on the indie
Filly Brown
] and no one was getting paid. Jenni found out that our still photographer was working with no pay and asked that her paycheck go to him. She was always trying to help others. I miss her so much!"
–
Edward James Olmos
"The first time she was on my show [Univision's
El Show de Cristina
], she came up to my green room after the show to share a shot of tequila with me and after we had a few, she grabbed my ring hand and looking at my ring she asked: 'Ten carats?' I said yes. Then she said, "someday I'm going to have one," and a few years later it was me holding her ring hand and admiring
her
rock."
–
Cristina Saralegui ("The Latina Oprah")
"As a fan and as someone that has been on both sides of the English and Spanish speaking industries, it is super-rare to have an artist that has
true
crossover appeal. She had such an effortless and disarming aura about her. She was such a pioneer for our Latin community and her crossover to Hollywood was bringing our entire community pride. We will carry her legacy and tell her story and we will miss one of our true icons."
–
Wilmer Valderrama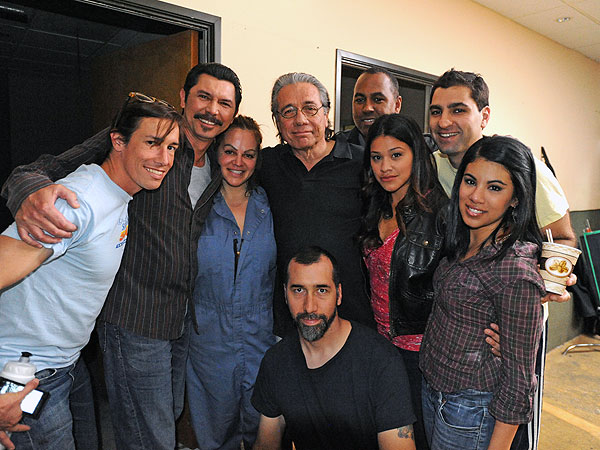 "The funny thing is, I remember everything about Jenni. I've spent the past year doing everything in my power to
not
forget a thing. She was a powerhouse. From her soft-spoken voice when you first met her to her informal, tender, love and care when she takes you in. Jenni was everything her fans believed she was – she was everything they wanted her to be: Open, honest, loving, real, humble, talented, a down a-- chick and, most importantly, a voice for those that didn't have a voice. I pray I can one day be a fragment of what she was and what she still remains. Her heart never left and it's with the utmost honor that I get to share these words of a heart I truly admired and adored."
–
Gina Rodriguez, Filly Brown
"I ran into Jenni at the Alma Awards and it was the first time I had seen her since I started working in the industry. She came up to me and told me that she needed to take a picture with me because her kids didn't believe that she knew me. Haha! Her kids were fans and Johnny (the youngest in particular) … she said he had a little crush on me. I was like, "I didn't know you saw my stuff", and she goes, '
Mija
, I'm so proud of you. You're doing great and you're only going to go up from here.' She was an incredible support to me and a friend to my family. She and my mom had a special relationship."
–
Francia Raisa, actress
"I think about Jenni often and relive many of the moments we spent together in my head – especially with the anniversary of her death this week. She was a part of my life when my son was born and was excited to share in the joy of motherhood with me because, as she always said, her greatest gifts were her children – nothing else was more important. The specific moment that keeps coming back to me is after her daughter Jacqui's wedding in September of 2012. Jenni pulled me aside as she was walking out and gave me a hug and said, "Thanks for everything. I'm so glad we were able to share this special moment with my family. It meant a lot that you were here. Love you, girl." To that I said, "I love you too, girl." And never were truer words spoken."
–
Shari Scorca, director and executive producer, I Love Jenni
"Jenni was a fierce, determined fighter that never lost her sense of humor no matter what the world threw at her. One of my favorite memories of Jenni was hanging out with her for more than an hour in the middle of the night at a deserted gas station mini-market near Kona. For the first time in a long time she could be anonymous – she said it reminded her of being a teenager. She just wanted to hang out, drink 40s, buy snacks and crack jokes. That was our Jenni."
–
Edward J. Paige, Executive Producer, I Love Jenni