When Dwyane Wade proposes, he doesn't do it alone.
The NBA star's new fiancée,
Gabrielle Union
, 41, shared details of her beau's
family-style proposal
on
LIVE with Kelly and Michael
Wednesday.
The happy event went down at a construction site for the couple's new home, where the Miami Heat standout was accompanied by his two sons and his nephew, whom he is raising.
"I turned to D ... and he's down on one knee," Union explained of the big moment, which she called a total surprise. "I said, 'Oh, you're serious,' " Union said as the children held up their own sign reading "Will you marry us?"
"Of course," she told them all.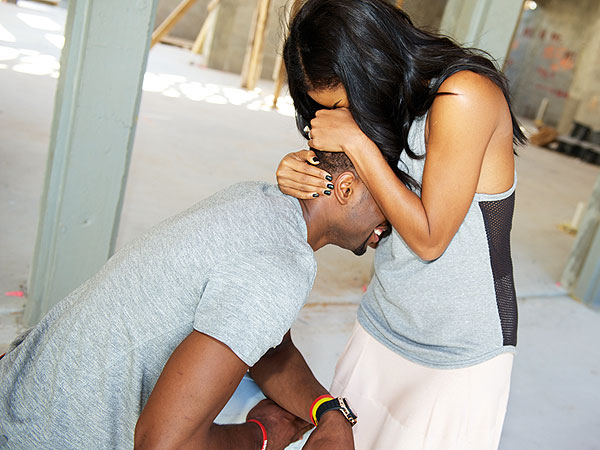 The actress also took to the blogosphere to promote her new BET show,
Being Mary Jane
,
live-Tweeting
its Tuesday night premiere and interacting with fans who showed her some major love.
"I do my own stunt-driving," said Union, later noting of working with veteran actor Richard Roundtree, who plays her father: "He is EVERYTHANG!"
After a day spent making media appearances for the show, the
newly engaged star
also posted a
video on her Instagram account
of a Times Square billboard trumpeting the new program, hashtagging it with the word "humbled."
It has been two months of highs as well as some drama played out in the press, with Union's pre-Christmas announcement that she will wed longtime beau Wade, coming amid revelations that he
fathered a child
while the couple took a break from dating earlier this year.
Whatever came between them at that point seems forgiven as Wade presented Union with a
giant diamond ring
, which the actress accepted. She also happily posed for a
holiday family photo spread
with Wade and his children, dubbing it the "Wade-Union" photo shoot in a
funny video
posted on YouTube that shows the group joking and laughing as they primp for the camera.
Wade spoke up after the news of his
new son
made headlines, calling him a "blessing to the bloodline."