As with the majestic songbirds of America, the coming of spring heralds the migration of young women to the Coachella Valley in California, home to the annual
Coachella Music and Arts Festival
.
During their yearly sojourn, these migrants will take part in the traditional rituals of their culture, including
"relaxing,"
"partying"
and
"rocking out."
Though many of these activities can take place solo, other, more advanced traditions, such as
"snuggling,"
require the help of a partner. How to get the full experience if you're flying
sans
boo? The answer is as simple as it is profound: Find a dude on Craigslist.
That's the strategy used by two anonymous festivalgoers, who
advertised their need for male accessories
in a Craisglist post called "Needed: 2 Coachella Boyfriends for weekend 1."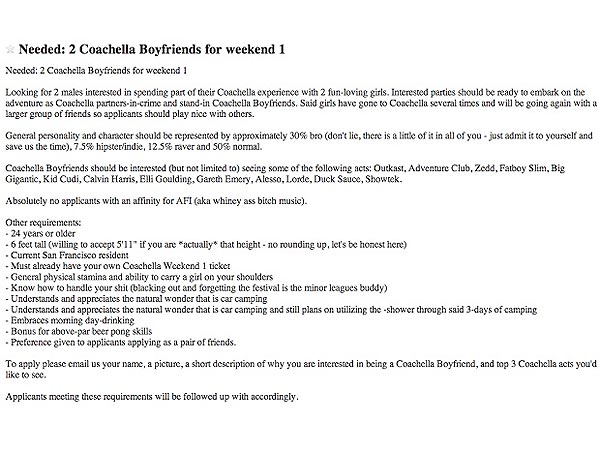 Describing themselves as "2 fun-loving girls," the pair put a call out for dudes who were "approximately 30% bro (don't lie, there is a little of it in all of you – just admit it to yourself and save us the time), 7.5% hipster/indie, 12.5% raver and 50% normal."
What would such a man look like?
Like this.
The perfect candidates would be interested in the diverse musical stylings on display at Coachella, from
Fatboy Slim
to
Lorde
to
Outkast
, though fans of "whiney"
AFI
were encouraged not to apply.
If chosen, applicants would be granted the opportunity to accompany the Craigslist poster girls across a weekend of delights, including but not limited to "car-camping," beer pong, and carrying the girls around on their shoulders.
Though the posting
has since been removed
, we can't help but root for these ladies. And if Craigslist doesn't work out, may they find a strapping young man-chariot the old fashioned way: on Tinder!
Like us on Facebook for more stories like this!