Alison Sweeney is the host of NBC's
The Biggest Loser
, the award-winning star of
Days of Our Lives
, and author of
The Star Attraction
and
The Mommy Diet
. She's also a director, producer, wife and mom. Like she has for the past three seasons, Alison will blog each week about the latest episode of
The Biggest Loser
. Follow her on Twitter: @Ali_Sweeney.
Are you all getting excited for the Winter Olympics? I have to say, the week we spent in Park City, Utah, was so incredible. To meet the athletes, to see where they are training and to watch their intensity and focus was inspirational. I personally loved meeting the U.S. Women's Curling Team and the U.S. Women's Bobsled Team and I loved traveling with the contestants, trainers and the
Biggest Loser
crew.
As much as the travel week is nerve-wracking for contestants, I could tell it was also reinvigorating for them. During the challenge, when the contestants started curling, it was pure comedy but they quickly got into their competitive spirit – Jay wanting to not win and have a greater target on his back and the rest wanting to win the $5000 prize. The competition was so exciting and Rachel coming from nowhere to win was particularly impressive. You have to give Rachel credit – she's willing to put the target on her back to keep focused on the life-changes and competition instead of the game play.
For our second challenge, I knew the contestants weren't expecting me to tell them that they were going to run up the bobsled route, especially at such a high altitude. When
we first started the competition
, each contestant would have barely started the challenge. Now, after all these weeks, each started with
determination and a conviction
to finish. Rachel again proved to be a force to be reckoned with and never stopped running until she passed the finish line. While only Rachel won the 1-lb. advantage on the scale, everyone not only finished but they all finished strong.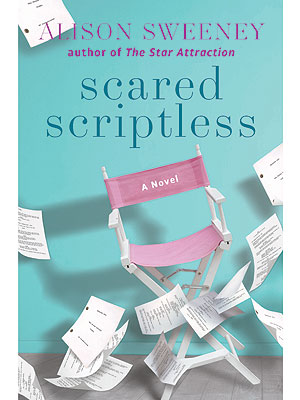 The weigh-in was COLD! Cold weather and frigid on the scale. Marie had a great week losing 5 lbs. and overcoming her fears with Jillian. Chelsea getting into the 160s was another great accomplishment. But Rachel, David, Tanya, Jennifer and especially Bobby and Jay didn't fare as well on the scale.
In the end, the remaining contestants voted for Jay to go home. Like he said, he is 8 lbs. away from his goal weight and had such a life transformation on the Ranch.
My favorite moments this week happened while experiencing the Olympic training facilities, meeting such incredible athletes and having a chance to get away with my
Biggest Loser
family.
On a different note, I'm really excited to share with you the cover of my next novel,
Scared Scriptless
, that will be released on June 3. I've loved all the feedback I've gotten from fans who read
The Star Attraction
and I'm excited for you to read my next book, that will have some familiar characters!