Starstruck is an understatement.
When Kirby Koo met
Zac Efron
, her life changed forever. But unlike many peoples' star encounters,
the feeling was mutual
.
So much so that Efron, 26, captured the monumental moment on
Instagram
for his more than one million followers.
"@Curbiekoo I have so much more I want to say," Efron – who met his No. 1 fan while promoting
That Awkward Moment
at the Facebook headquarters, where Koo works – wrote. "And I will – when I find the words. But I'll start here – When you stood up, with such strength, and sincerity and gave me perhaps the nicest compliment I've been paid ... it meant so much more than that to me."
Added the former star of
High School Musical
– which was the theme of Koo's 26th birthday – "@Facebook and online media in general, show only half the picture – sure people see me, but I never get to see them. Yesterday was the first time in a very long time that I was able to look into your eyes and remember why I do what I do – and will never stop. I needed that, more than you will ever know and just wanted to say thanks – face to face soon I hope. :)"
"Kirby was so overwhelmed with nervousness that when Zac was talking to her, she was fidgeting with her wedding ring and it accidentally flew off," an onlooker tells PEOPLE. "She was telling Zac that he's the person she'd get a hall-pass from her husband. It was a cute and funny moment. Everyone was cheering."
And once she saw the Instagram, she was even more delighted, writing: "Zac, I am so incredibly touched by your note. Meeting you was always the dream, but I never could have imagined that you would respond with such genuine kindness and literally open arms. The impact you and your talent have had on me and so many millions of others should never be underestimated. Beyond the actor, thank you for being such a warm, generous person and I'd be humbled to consider you a friend."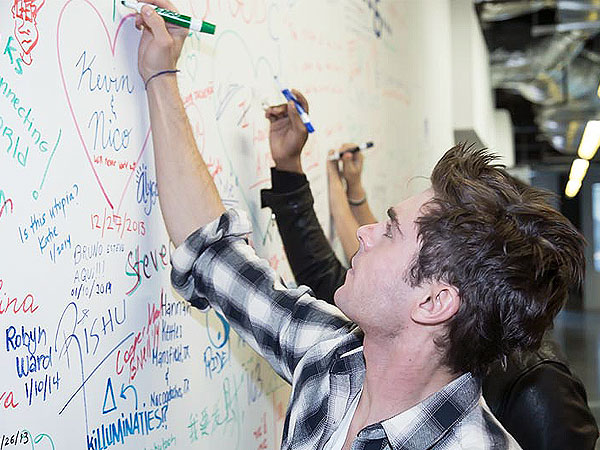 Related Video: Zac Efron's Changing Looks