Emma Thompson is up to her red carpet antics again.
Barefoot and giggly
at the Golden Globes, the
Saving Mr. Banks
actress arrived at the Screen Actors Guild Awards with her shoes on (flats this time around), but the same fun-loving attitude.
Thompson spent her SAG carpet time getting cheesy with fellow nominees and sneaking in a few photobombs. Tom Hanks,
Meryl Streep
and Lupita Nyong'o were all treated to a spoonful of her silliness before heading inside.
The shenanigans didn't stop there. Inside, Thompson hunted down
Bryan Cranston
and boogied through her stage time, even requesting a CD of the SAGs' jazzy background music.
Thompson is nominated for her portrayal of the curmudgeonly author P. L. Travers, and she is certainly the Mary Poppins of the 2014 awards season.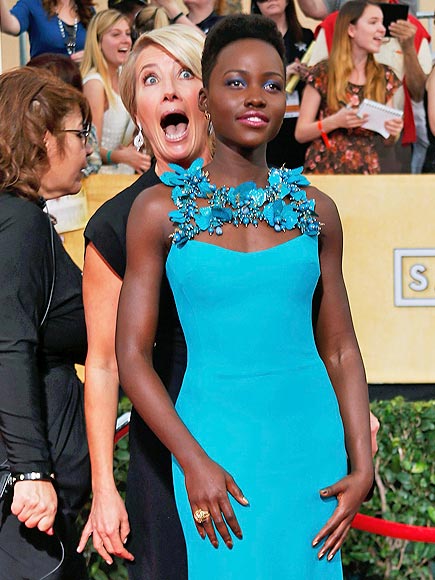 Lucy Nicholson / Reuters / Landov
Lupita: She is poise, she is grace – and now she is photobombed, too.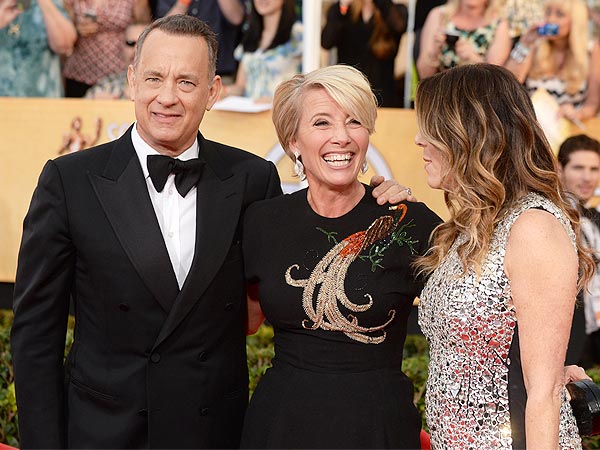 Jordan Strauss / Invision / AP
As a red carpet regular, Thompson knows how to turn on the hundred-watt smile for legends like her
Saving Mr. Banks
costar Tom Hanks and his wife Rita Wilson.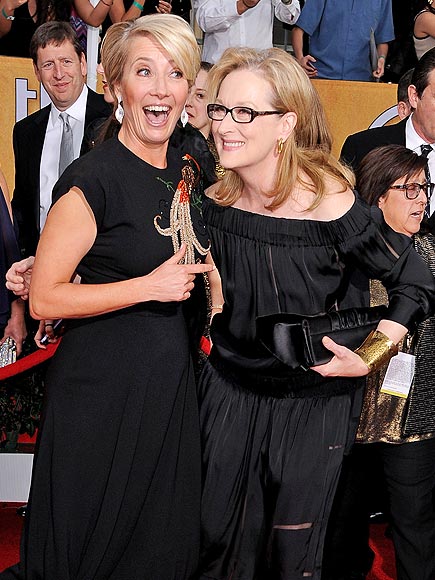 Steve Granitz / WireImage
Thompson has no trouble posing with Streep,
the selfie professional
.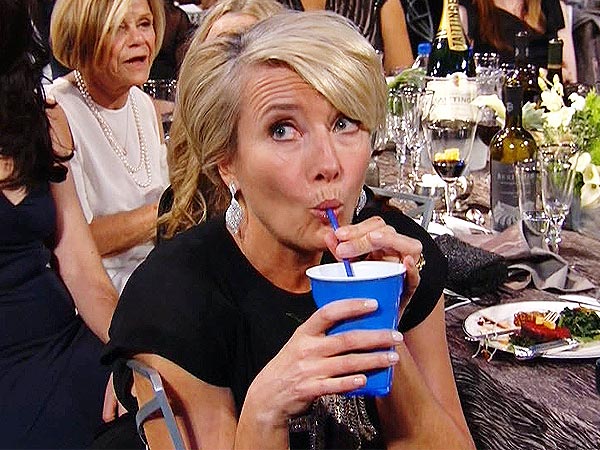 BYOB at the SAGs? She may've lost to Cate Blanchett, but Thompson sucks it up like a pro.
Ewan McGregor brought the dapper, but Thompson has the moves.
Much More on the 2014 SAG Awards
Can't get enough of Red Carpet Season? Be one of the first to get the news from all the awards shows!
Sign up below for our daily newsletter – so you'll be the first to know all about the winners, the best speeches and the most fabulous fashion.
Like us on Facebook for more stories like this!