Celebs like
Katie Holmes
and
Lady Gaga
are fans of SoulCycle – spinning classes that combine cycling with a full-body workout – but
Vanessa Hudgens
is thinking about taking
her devotion
to the cardio craze one step further.
"I've considered signing up to be an instructor, but not in a f--- acting way. Just because it is fun," she says in the new issue of
Nylon
magazine. "But I don't think my manager would like it."
The former Disney star, who's featured on the February cover of the magazine, also talks about her new movie,
Gimme Shelter
, in which she plays a pregnant teen runaway (check out the trailer below). It wasn't exactly a glamorous role.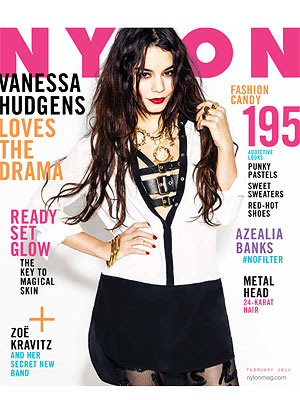 "I loved looking into the mirror and seeing myself with short hair and bad skin and tattoos," she says of the
makeunder
. "The uglier I could make myself, the more giggly I would get on the inside."
It's a role that will certainly have people talking, just as they did about her edgy 2012 movie
Spring Breakers
, which featured the actress in a threesome with
Pretty Little Liars
star
Ashley Benson
and
James Franco
.
"You hear what you want to hear," she says of the public's reaction to the controversial film. "If you're not into something, be open about it. If you don't like me, I don't care."