As a plus-size female, Jewel Moore says she felt alienated by the media. So the high school junior from Farmville, Va., launched her own online petition: "Make Plus-Size Princesses in Disney Movies!"
"I made this petition because I'm a plus-size young woman, and I know many plus-size girls and women who struggle with confidence and need a positive plus-size character in the media," Moore explains on her
Change.org
petition page. "Studies show that a child's confidence correlates greatly with how much representation they have in the media. It's extremely difficult to find a positive representation of plus-size females in the media."
Thousands of others agree. In the several days following
the petition's release
, "Make Plus-Size Princesses in Disney Movies!" has accumulated 11,044 signatures – less than 4,000 away from Moore's goal.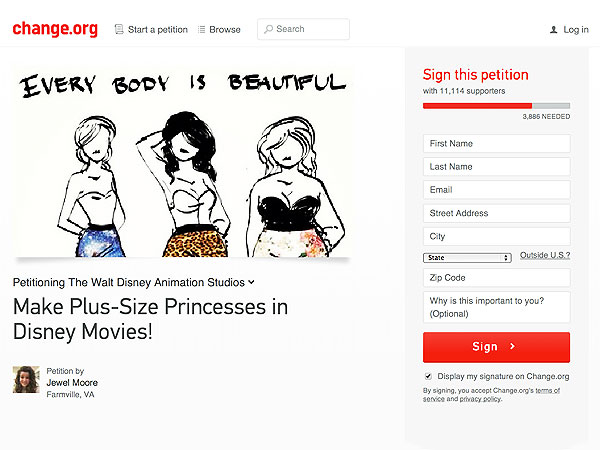 The unattainable big eyes, tiny waists and flawless hair of
Disney princesses
are all make-believe, but the petition's supporters argue that their effects on young women are real. Many signers went on to share their own struggles with media standards in the comments.
Moore concludes her popular petition with hope for a more realistic media image for the countless young girls who don't feel they fit the Disney princess standard.
"It would be revolutionary for Disney to show support to a group of girls who are otherwise horrendously bullied by the media. It would make many young girls feel confident and worthy to see a strong character that looks like them."
See Moore's "Make Plus-Size Princesses in Disney Movies!" petition
here
.
Like us on Facebook for more stories like this!