It's no surprise to hear that
Amy Poehler
is all about girl power.
The former
Saturday Night Live
star, who should be asked to
host every awards show
with her pal
Tina Fey
, reveals in the March
Ladies' Home Journal
that she works hard to maintain her friendships with her girlfriends.
"Most of the women in your life will outlast the men in your life," says Poehler, 42. "The
SNL
ladies –
Maya Rudolph
,
Rachel Dratch
, Tina – and I text pictures of our kids back and forth all the time. It keeps us connected. As my nanny used to say, the older you get, the more important it is to know people that knew you when."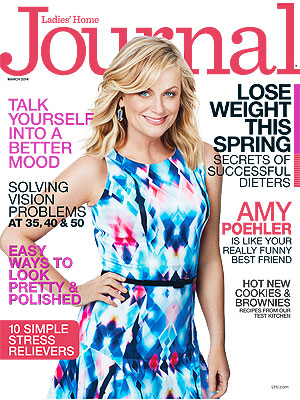 Courtesy Ladies' Home Journal
Poehler, who has
two sons
with
ex-husband
Will Arnett, created the web series
Smart Girls at the Party
to help make young girls feel empowered, and says that she's learned a lot about herself in the process.
"[They] feel passionate about things," she says. "They remind me that it's okay to really care – and that cynicism and sarcasm are an easy choice."
The
Parks and Recreation
star also reveals that like a lot of young girls, she was in a hurry to grow up. "I dressed like a professional businesswoman from
Working Girl
when I was in seventh grade," she admits. "I wore shoulder pads and sneakers as if I was commuting to an office."
But now that she is an adult, there are some things that she still finds difficult. "I think the hardest thing is to know what you want, ask for it and then stop talking," she says.
The other thing that's not easy? Finding the energy to workout. In Poehler's dream of the perfect exercise class, "The teacher gives us all a hug and goes, 'You did it! You showed up! Let's lie down.' We all lie down and she's like, 'How is everybody feeling?' We're like, 'Great!' And the teacher's like, 'Great!' " Amy says. "Then we all get to leave 20 minutes early."