Broadway meets Bolshoi? Spider-Man takes Sochi?
Daniel Ezralow, the man behind the choreography for the Broadway musical
Spider-Man: Turn Off the Dark
, is taking on part of the opening ceremony of the
2014 Winter Olympics
in Sochi, Russia, on Friday – an action-packed show that's been a year in the making.
The L.A.-based choreographer, who has worked on stage, film and TV, has been tasked with the centerpiece of the ceremony: a 20-minute segment on 20th-century Russia. Here he tells PEOPLE what viewers should know about the opening ceremony.
•
A Cast of Hundreds
The show includes 80 professional dancers and more than 700 volunteers, with lots of behind-the-scenes help. "I brought three assistants from America, and once I got here I got three translator assistants, and then I have another group of about three or four that assist me in terms of the volunteers," he says.
•
Accentuating the Russian Positive
"There will be a lot of wonderful things: the art of Russia and the beauty of Russia, and it's exciting," says Ezralow. As for whether the ceremony will address the international criticism of Russia's policy towards gays, Ezralow says, "If we choose as humans to only focus on the negative, we will only see the negative."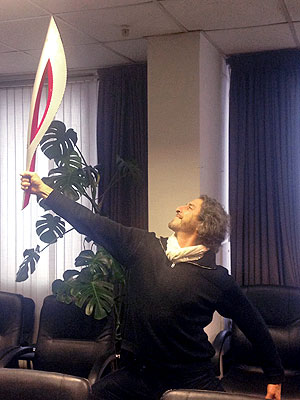 •
Don't forget to Look Up
"There's a lot of aerial stuff – it's not so much human beings but there's stuff in the air," says Ezralow. "My choreography is very physical. And there's also a lot of irony. I love to take things and twist them in a lighthearted way, and there is definitely a section that has a lot of joy to it."
•
Some Familiar Tunes
"There's a lot of really great songs that are very well known and wonderfully powerful," says Ezralow of the soundtrack. "I was able to combine a lot of very, very famous Russian tunes that I found a lot of people here are connected to."
•
Awe – Not Shock
"I am not here to make a political statement with my work, I am not here to show you how terrible or tragic life can be, I'm here to inspire you," says Ezralow. "I'm moving to move you. Hopefully I was able to serve these opening ceremonies in a way that inspires the world."
Watching the #Olympics opening ceremony tomorrow night? Watch &Tweet along with @peoplemag! Maybe you'll get a gold medal in snark.

— People magazine (@peoplemag) February 6, 2014