Norman Reedus, who plays Daryl Dixon on AMC's
The Walking Dead
, spent last Thanksgiving with the cast of another hit show – A&E's
Duck Dynasty
.
"I was surprised to get the invite," the actor, 45, tells the February/March issue of
NYLON Guys
. "But they like our show, and I guess we're both on popular shows, so it makes sense."
Reedus gave thanks with the Robertson family prior to
the controversy
over Phil Robertson's anti-gay comments.
"Those guys are fun to sit down and eat a meal with. A bunch of weird dudes. Come to think of it, they seemed pretty sophisticated to me," he says.
And Reedus can fit right in with a group of hunters, considering he's killed someone in 39 of his 42 film and television appearances.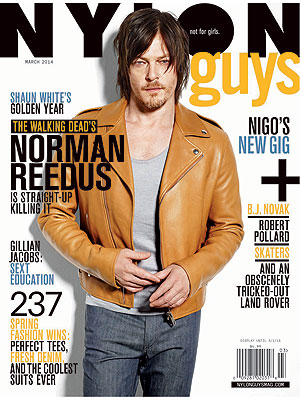 Marvin Scott Jarrett for NYLON
"I was born to play the bad guy, I guess. I have a suspicious look to me," he says.
But the actor clearly has a stake in what his character does or doesn't do on the show – he's quite opinionated about Daryl's love interests, for example.
"Sometimes they suggest this or that, but if Daryl's going to get busy with another character, it has to be just right," he says. "The producers are smart, man. Smart enough to know that Daryl can't have the kind of love interest that you might think. I feel pretty strongly about it."