Juan Pablo Galavis, former pro soccer player, single father and star of this season's
The Bachelor,
is blogging for PEOPLE.com each week about the ladies, the dates and the difficult decisions he faces. You can also follow Juan on Twitter @JuanPaGalavis.
After a long day of traveling, I finally got to New Zealand! I have to say, it is one of the most beautiful countries I have ever visited. Lake Taupo is on the north island of New Zealand and in the countryside. I absolutely fell in love with it.
Andi's Date
Out of all mis niñas, Andi was the only one who had not had a one-on-one date yet. So, it was time for me to see what our connection was like. I knew that she had her doubts about the adventure and was desperate for a one-on-one date, but I was saving a great place for both of us and let me tell you, it was definitely worth the wait.
My date was in this place called The Squeeze – and you have to literally squeeze around each other to walk through it. She was excited but also a little anxious because she had no idea what we were doing. At some points, the rocks made the space so small that I thought my body wouldn't fit and I wasn't gonna make it through.
It was freezing cold that day, but the water was hot, so Andi and I stayed in the water to keep warm – and honestly, we made it a little warmer.
The boat ride on the River Jet was out of control. The driver maneuvered the boat so that it was right up next to the rocks and trees. On our ride back, it started to rain, so Andi and I had to wrap ourselves in a towel. It was a very fun experience.
Dinner that night was at the Pohutu, the largest active geyser in the Southern hemisphere – one of the best attractions in Rotorua. It's like being on a different planet. I made a toast (did you see my face having that sip?) and you can tell how much I hated that Champagne taste,
jajaja
.
It was such a relaxing and romantic night and then the geyser started to erupt. It was so windy that we started to get wet. This actually made my date better because I got to see Andi reacting to something natural, something that we cannot control, and she handled it so well.
After I gave Andi the rose, I wanted to give her another surprise. She has never tried Nutella and it's my favorite. So, I found some in New Zealand and I gave her a little bit – too bad you were not able to see how she ate it, because it was pretty good.
Group Date
New Zealand is known for extreme sports, so for the group date, I wanted to do something that none of us had done before. Before that, though, I wanted to have a picnic with the girls on the mountains.
We played a little bit of rugby and it was all of the girls against me. They could not catch me. It was hilarious. And while I was trying to do my interviews, a bunch of cows decided to come close and were very noisy, so it took me forever to do them.
After I got to spend some time with the girls enjoying the scenery, it was time to try the OGO – a big inflatable ball that you get inside. There were two courses, the first one was a straight line down the hill and the other one was a zigzag pattern. I jumped into the first OGO with Kat and it was so fast, it felt like water sliding. Renee was so excited. She kept telling me she wished Ben was there to do it with her, and that was so cute because I also was thinking about Camila doing it.
I went down the hill with each of the girls, making sure that all of them had a little bit of time with me and we could hit each other inside the OGO. Going on the zigzag with Cassandra, I could not stop laughing, and she was laughing the entire way down. It was very cold and I was glad that we had a hot Jacuzzi at the bottom of the hill.
For the after party, I took the girls to Hobbiton, the little town where the movies
The Lord of the Rings
and
The Hobbit
were filmed. I started thinking about my brother Rodrigo, because he works in the film industry and is a big fan of the movies. I knew he would have loved to be there with me. I made a video for him with the girls that I will be posting pretty soon.
I had a great time with all of the girls at Hobbiton even though you didn't get to see all of my conversations. I knew Sharleen had doubts about being here and how I felt about her, so I decided to give her a little reassurance by giving her the rose.
I give the roses depending on whom I think needs the confidence more. I want that person to feel comfortable coming into the rose ceremony and for next week's trip.
Saying Goodbye to Cassandra
Once I found out that Cassandra and Renee had their "mommy moment," I knew how much Cassandra was missing her son. I also realized that my connection with Cassandra wasn't as strong as with the other girls. So, I decided it was better to let her go so she can be with her son as soon as possible, as opposed to waiting two more days until the rose ceremony.
I always thought of Cassandra and Renee as my special ones and I respect them a lot for taking the time away from their sons to get to know me. Even though Cassandra is a mom, I wasn't as concerned about kissing her as I was about Renee because her son, Trey, is only 2 years old.
With Renee, Ben is 8 and she told me weeks ago how hurt he was when she broke up with her last boyfriend, whom Ben got very attached to. I didn't ever want to make Ben feel uncomfortable or disappointed in his mom.
Sending Cassandra home that night was very hard. When I got back to the girls I told them that she is a wonderful woman and deserves a great guy, but that I wasn't the right guy for her. The other girls then told me that night was her birthday, and I almost died. I was devastated, and at first I thought, "What a birthday present I just gave Cassandra!" I felt horrible.
After thinking about it longer, I realized that it was better to be honest with her and that she would now get to spend her birthday at home with her son. That made me feel better.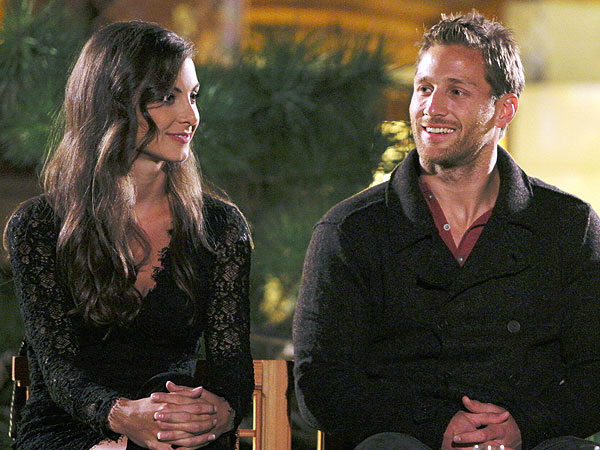 Clare's Date
At this point in my adventure, all of the women already had a one-on-one date so it was time start having second dates. I took Clare on my last date in New Zealand because I was still concerned about how she felt about last week's cocktail party in Vietnam. I knew she felt guilty, and even though I told her it was my fault for not saying "No" when she knocked on my door, I wanted to explain my side to her.
Our date had a drastic change. I was going to pick her up in a helicopter and take it to a canyon, where we were going to do the
'Flying
and later that night have dinner there, but the wind was so crazy that day that we weren't allowed to do those things. It wasn't safe conditions so we had to improvise. So, the canyon that I took Clare to during the day was actually where we were going to have dinner that night.
We had a great picnic and we talked for hours about
what had happened in Vietnam
. We both understood each other's different ways of thinking and respected both points. That's what relationships are all about, respecting and understanding each other and getting to know one another better. That felt really good.
For dinner that night, I took Clare to my suite – I didn't have another place to take her with all of the crazy weather. I also just wanted to have dinner and relax with her. I'm the kind of guy that doesn't need a fancy date, and hanging out with Clare on the couch and just talking was great. She made fun of my Hammer pants (I wear them every time we travel) and I asked her if she wanted to get comfortable and we did. I gave her a pair of my Hammer pants to chill on the couch.
It was an amazing week in New Zealand, and the rose ceremony cocktail party was so good – the house and the river were out of control. Although it was so pretty there, it made it even harder to say goodbye to Kat. She is sweet, caring and very mature, but I unfortunately didn't see enough of it.
I can't believe I'm down to only six women. I think so highly of each of them, so I decided it was time to get back to America and enjoy my "hometown," Miami.
I can't wait for you to see what I have in store for next week. Miami is gonna be great, and I get to see
mi chiquiturri
, Camila. For all of those Latinos reading, Romeo Santos will sing a private concert and I will have to show off my Bachata moves.
Gracias por leerme y espero les haya gustado
. Thanks for reading my blog and I hope you liked it.
Besitos
! Kisses,
Juan Pablo Galavis