Admit it – at one time or another you might have fantasized about what it would be like if you were
Jennifer Lawrence
's bestie.
Well, Laura Simpson is, and in
a post on MySpace
, she reveals that it is everything we could have imagined and then some.
Simpson was the
American Hustle
nominee's date to the
Oscars
on Sunday (along with JLaw's
on-again boyfriend Nicholas Hoult
). But you might know her as the girl in the black dress who Lawrence grabbed as she
almost face-planted
on the red carpet.
She uses "my freshly done
Lauren Conrad
up do to break her fall," Simpson says.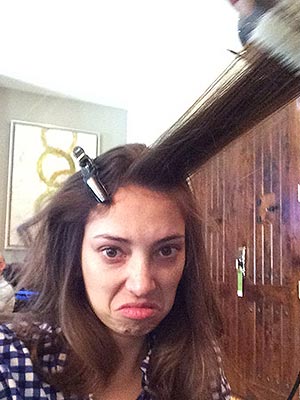 Despite this, Simpson had fun with her pal (they met seven years ago at an event "and have been eating pizza together ever since") – and she had even more fun schmoozing with the A-listers.
Using the restroom before the awards show starts, as
Jessica Biel
holds the door open for her and compliments her on her dress, Simpson notes "no human being should be allowed to have her face and her body."
After Lawrence misses out on the best supporting actress award,
which went to Lupita Nyong'o
, the pair decide to watch the rest of the show from the greenroom, where there is pizza.
And then it was hard to move without running into a celebrity – literally. "My dress gets caught on
Jennifer Garner
and we awkwardly laugh and someone tries to separate us," Simpson writes.
Pregnant
Kerry Washington
asks if she can have the Slim Jim in Simpson's purse, and when said purse falls off her seat, "some guy" picks it up, "and I say, 'Thank you ...
Channing Tatum
.'"
While Lawrence works the room, Simpson is happy to just observe: "I kind of just sit there and smile creepily when someone catches me staring – shout out to Penelope Cruz."
After the show Lawrence and Simpson go backstage, where they meet
Angelina Jolie
and
Brad Pitt
, who "smells amazing, like nothing I've ever smelled," Simpson notes. "Eventually ask what cologne he's wearing and he tells us, 'I don't wear cologne, it's just my musk I guess.' I have to choose not to believe him because it would just be unfair to mankind."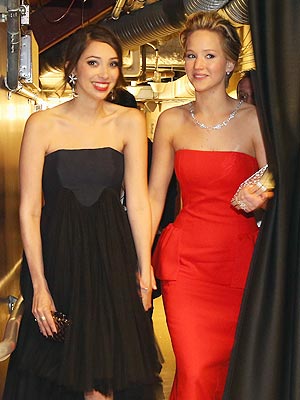 Then come the parties. At the
Vanity Fair
bash, Simpson finds herself pushed to one side as everyone clamors to speak to Lawrence, so she decides to follow Bill Murray around the party.
"At one point he looks in my direction and winks at me while dancing to 'If You Want My Body and You Think I'm Sexy' by Rod Stewart – a moment, I now realize, my whole life has been leading up to," she writes.
Next, it's on to Hollywood exec Guy Oseary's private party where celebrity stylist
Rachel Zoe
grabs Simpson's arm and tells her she looks "mage." "At that point I realize my night is not going to get any better," Simpson writes, so she leaves, getting home at around 3:30 a.m. "with an earring/hair headache and major Barbie feet."
"The whole experience was completely exhausting, overwhelming and surreal," Simpson says, summing up her evening. "I think what I took most away from the evening was how lovely all the women were. Actresses tend to get a bad reputation but every woman I met was lovely, witty and introduced themselves to me even though I wasn't famous – even
Anne Hathaway
."