Is
Lena Dunham
quitting acting?
Not exactly, but the acting, writing, directing
Girls
powerhouse, 27, says she may stay behind the camera as her career unfolds.
"I don't know if I'm going to want to act anymore. I'm always relieved on the days I don't have to," Dunham tells
Glamour"
for its April issue, on newsstands March 18. "I'd rather give parts to other women than be the woman having the parts."
In the interview, HBO's triple threat discusses the unlikely inspiration for the show's aesthetic: old photos of her artist parents.
"I've always been attracted to pictures of my parents in the 1970s. That aged photograph palette seems to give an importance to their 20s," she says. "So I was like, I'd like to make something that shows
my
20s through that beautiful soft-focus lens."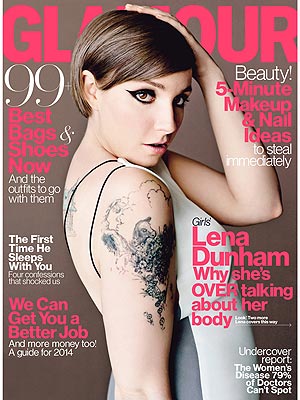 As for the series' often-remarked-upon sex scenes, Dunham has boyfriend Jack Antonoff in her corner.
"The dialogue around the show already existed, so it was sort of clear to him what the baggage of dating me was going to be," she says of romancing the
Fun guitarist
. "I remember talking with him on our first date and him being like, 'God, all the articles about your nudity on the show are such bulls---.' It's funny, 'cause in some ways that's the conversation we still have when I'm upset [about stuff I read]."