There's so much explicit sex in Lars von Trier's racy
Nymphomaniac
that one of its stars,
Christian Slater
, doesn't feel self conscious about simply showing his "heinie" (his word) onscreen.
For starters, says Slater – who confirmed he didn't use a butt double – it wasn't even his first time doing a sex scene.
"The first movie I did was
The Name of the Rose
with Sean Connery, and I had a love scene in that," Slater told PEOPLE Thursday at the film's New York premiere, presented by
Interview
and Absolut Elyx.
"And I was, like, 15 years old. I was probably more nervous about doing that. Now I'm much more relaxed. I was comfortable [in this movie]."
Still, the 44-year-old admits, "It was an awkward scene. No doubt."
Even so, there was no question whether he'd do it or not.
"Lars von Trier is gritty and he's real and if you want to sign on to work with him, you have to be willing to take risks and put your ass out there," Slater, who also stars on ABC's
Mind Games
, says. "So that's what we did."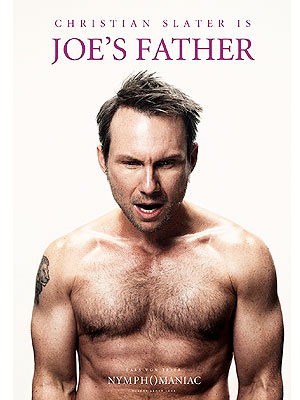 Courtesy Magnolia Pictures
The newlywed, who was spotted getting cozy in a booth with
wife
at the after party at New York hot spot Butter, also has two words for fans who can't reconcile the Christian Slater who was a young hunk-slash-loveable rogue in movies such as 1988
Heathers
with the one who plays a
dad
(to twenty-something Stacy Martin) in this movie:
"I'm sorry," he jokes, explaining, "For me it's refreshing. I think it's good to mix things up. To get to play this father – I was thrilled. I've been in this business a long time and it is hard for people to adjust their perceptions, to see people in a different way and allow people to grow up."
Slater adds, "It's challenging, but I think if I want to continue to work in this business, I have to move outside of my comfort zone. I certainly can't play a teenager anymore."
"It's good for all of us," he says with a grin. "It's better."