Matt Lauer
went empty-handed to his
Today
co-anchor
Savannah Guthrie
's
wedding to Michael Feldman
outside Tucson last weekend.
"I haven't done that shopping yet," Lauer told PEOPLE from the airport Sunday, awaiting his return flight to New York. "What's the appropriate amount of time?"
Lauer scoffed at traditional protocol allowing up to a year after the wedding date.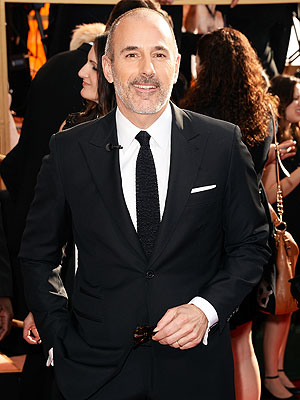 "I think you get de-friended by that time!" he said. "So, no, I have to go out and look. They're such a thoughtful, caring and kind couple, I really want it to be something personal. I'm not going to do just the old registry – like, 'And here's the gravy ladle!' "
Lauer also said he's not the only one at the
Today anchor desk
who procrastinates. Guthrie and Feldman, who are expecting their first child late summer, have put off their honeymoon.
"She's going for delayed gratification," Lauer says. "She's going to go in April, they were telling me."
For all the details on Guthrie's wedding – including exclusive photos – pick up the new issue of PEOPLE, on newsstands Friday
Visit NBCNews.com for breaking news, world news, and news about the economy