Four military search planes were dispatched Thursday to determine whether two large objects bobbing in a remote part of the Indian Ocean are debris from the
missing Malaysia Airlines flight
.
The
search for the objects
could take time and Australian authorities said one of the planes was unable to locate the debris through clouds and rain, but that other planes would continue the hunt.
One of the objects spotted by satellite imagery was almost 80 feet in length and the other was 15 feet. There could be other objects in the area, a four-hour flight from Australia's southwestern coast, said John Young, manager of the Australian Maritime Safety Authority's emergency response division.
"This is a lead, it's probably the best lead we have right now," Young said. He cautioned that the objects could be seaborne debris along a shipping route where containers can fall off cargo vessels, although the larger object is longer than a container.
Young told a news conference in Canberra, Australia's capital, that planes had been sent to the area about 1,550 miles southwest of Perth to check on the objects. He said satellite images "do not always turn out to be related to the search even if they look good, so we will hold our views on that until they are sighted close-up."
Australian Prime Minister Tony Abbott earlier told Parliament about the debris, and said Orion search aircraft had been dispatched.
Young said visibility was poor and may hamper efforts to find the objects. He said they "are relatively indistinct on the imagery ... but those who are experts indicate they are credible sightings. The indication to me is of objects that are a reasonable size and probably awash with water, moving up and down over the surface."
Military planes from Australia, the U.S. and New Zealand have been searching in a region over the southern Indian Ocean that was narrowed down from 232,000 square miles to 117,000 square miles.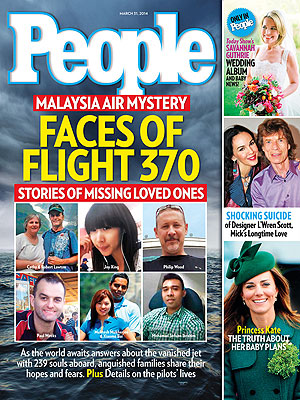 The Australian Maritime Safety Authority released two images of the whitish objects floating on or just under the surface. The images were taken March 16, but Australian Air Commodore John McGarry said it took time to analyze them.
Malaysian Defense Minister Hishammuddin Hussein told a news conference Thursday that the satellite images, "while credible, still must be confirmed."
Some analysts said the debris is most likely not pieces of Flight 370. "The chances of it being debris from the airplane are probably small, and the chances of it being debris from other shipping are probably large," said Jason Middleton, an aviation professor at the University of New South Wales in Sydney.
The area where the debris was spotted is about halfway between Australia and desolate islands off the Antarctic.
Flight 370 disappeared on a night flight from Kuala Lumpur to Beijing.
Malaysian authorities
have not ruled out any possible explanation, but have said the evidence so far suggests the plane was deliberately turned back across Malaysia to the Strait of Malacca, with its communications systems disabled. They are unsure what happened next.
For much more on the passengers of Flight 370 and stories from their families and friends, pick up this week's PEOPLE, on newsstands Friday